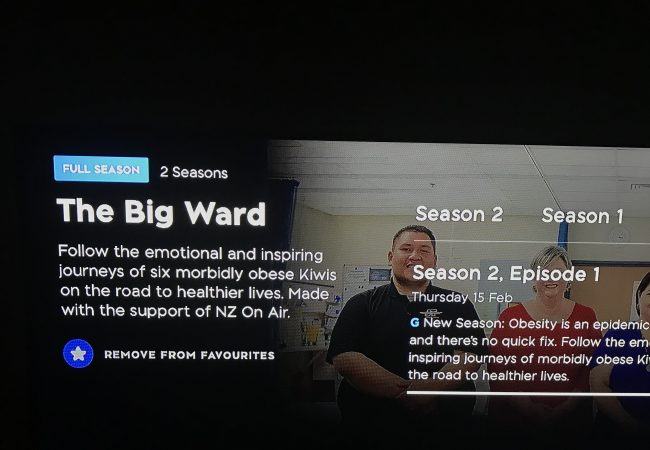 My thoughts on The Big Ward season 2!
Season 2 of The Big Ward, oh how I waited for you! It's nice to see bariatric surgery being talked about on TV. My main hope for the series is that it reaches people who could benefit from bariatric surgery and it gets them on a path to better health. I noticed my blog had a lot more traffic around the episodes airing so that's a good indication it's doing that.
I think season 2 of The Big Ward really improved on season 1. The season was longer which allowed them to go deeper into the stories the participants had to tell. I think this season presented more complex and real stories instead of just focusing on very narrow aspects of the participants lives that had led them to this point. The diversity of the stories the participants had to tell was great because ultimately, more people can relate to what's being shown.
I do think they missed a big opportunity for education again. Most of the time the surgeries were referred to as 'weight loss surgery' not the specific type the person was getting. In Mel's case, Mr Babor said she was having a gastric bypass and very briefly explained it which was good. (more of this stuff next time please producers!) I assume the other participants had gastric sleeve surgeries but I'm not sure. I'd love it if they could talk about the specifics of the surgery a bit more.
I was stoked to see Josephine back from season 1. She had tried hard but hadn't managed to get on the surgical list and have surgery. In season 2 we saw her still trying so hard and making the changes she needed to so she could get on the list. What a journey she had to get to surgery! Josephine is an inspiration for us all and is the poster child for bariatric surgery not being the easy way out. She has come so far personally as well. To see she is now training to be a nurse was the absolute cherry on top. Jo is living her life to the absolute fullest now and I can tell she will be an amazing, caring nurse.
I found Lisa's story really interesting. The focus on her mental health and struggles with it in relation to her weight are something I'm sure many people go through and can relate to. It was great to see the level of support she received, from professionals and her husband, and how that contributed to her success in getting on the list for surgery. When she fit into the piece of dream clothing her husband had got for her, oh my gosh, I was just so happy for her.
It was awesome to see Lauren and Jackson on the show too. They were two very different young people but both were ultimately successful in getting surgery. Jackson's story goes to show that even if surgery is the best outcome for someone it may take them a while to get to the point of being ready for it themselves. When he said he was doing it for himself I knew he was ready and would give it the absolute best shot. Lauren could not have been more different from Jackson and the contrast was interesting. I was stoked that Mr Babor went ahead with her surgery even if he usually wouldn't be keen on such young patients.
Mel's revision from gastric band to bypass was good to see. Not all bariatric surgery is successful and it was confronting to see Mel being so honest about being able to get around her band. We all think we are going to be the perfect patient post-op but old habits are very easy to fall back into. I really hope Mel has more success with her gastric bypass. Will and Liz were both quite straightforward and it was awesome that they had each other's support.
I enjoyed season 2 of The Big Ward. Of course there were little things that bugged me about it but overall I think it was well done, presented a varied and diverse view of the people who seek out weight loss surgery and hopefully reaches people who could benefit from it and now have the motivation to reach out and start the process for themselves. If you're interested in having surgery after watching The Big Ward I have written a post about how to go about it here.
Did you watch season 2 of The Big Ward? What was your favourite moment? Mine was when we saw Jo is training to be a nurse, her life has changed so much and it's all for the better! If you haven't seen season 2 of The Big Ward and you live in New Zealand you can still watch it on TVNZ on demand!