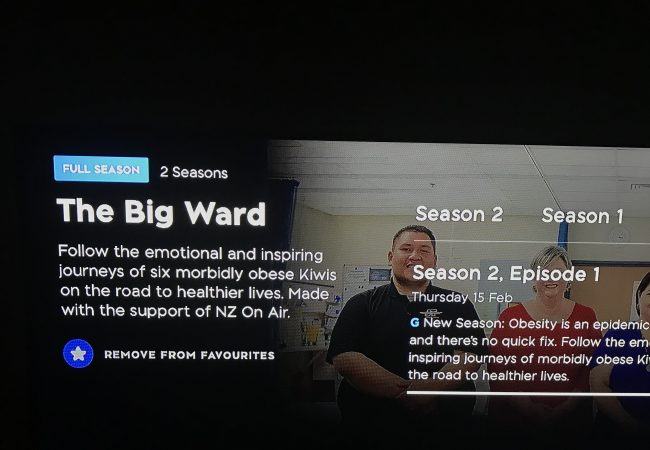 You've watched The Big Ward, now what?
Season two of The Big Ward is finally on our screens. It's  a TV series made here in New Zealand and follows patients in one of our public hospitals who are trying to have weight loss surgery. It's great to see weight loss surgery getting some attention in the media and hopefully it's reaching people who may think about doing it for themselves. This post is for you, if you're watching The Big Ward and you're wondering what steps to take but have no idea where to start.
Start researching
There are a few different types of bariatric or weight loss surgery that are performed in New Zealand currently and they are all quite different. On the show it seems most of the people have gastric sleeve operations but gastric bypass (various types) and duodenal switch bariatric surgeries are also commonly performed here too. It's a good idea to start looking into what surgery may fit you best and find out as much about them all as possible. Keep in mind, a lot of the information online is based in the United States and things will vary in New Zealand but it's still a good basic guide.
Go to your GP
One of the first health professionals to talk to would be your GP. They will be a good barometer of if bariatric surgery is a good solution for you and knowing your medical history they will be able to tailor their advice to your situation. You can ask to be referred to your DHB for publicly funded surgery. All of our DHB's have the same basic qualifying criteria but they all allocate their funds differently. Some fund a decent amount of weight loss surgeries and some only fund one or two. This will have a big influence on whether you will qualify for funded surgery through the public system. If you don't qualify, or get turned down from the public hospital you can look into going directly to a surgeon in NZ and pay for it, the general ball park figure for weight loss surgery is around $20,000-$25,000.
Medical Insurance
Some medical insurance providers in New Zealand will cover or at least partially cover bariatric surgery. You would need to look into your policy to see if it is covered (be careful though, some of them only cover gastric sleeves so if you wanted another type it may not be useful) and what the conditions around it are. If you don't qualify for public funding, then this can be a good option to get surgery without having to pay the full amount.
Talk to people who have had surgery
If you know or know of anyone who has had weight loss surgery, see if they wouldn't mind you asking a few questions. There's nothing like hearing about it from someone who has been through it. There's online message boards where weight loss surgery people talk about anything and everything to do with weight loss surgery and also blogs like this one (gotta plug my blog sometimes right!) where you can hear what it's been like for someone who's gone through weight loss surgery. If you don't have anyone to ask about it, I love hearing from my readers so send me an email from the Contact page here on my blog or you can get in touch through one of my social pages (they're all linked at the top of the page) and I would be happy to have a chat with you.
If weight loss surgery has been on your mind for a little while or a long while, there's no time like the present to take action and start moving towards it being a real option for you. If at any point you decide it's not for you, you want to try something else or that it is the right thing but you're not ready yet, that's fine. It's best you're totally really, willing and have your heart set on it before you go through with it. You can always start the process again later.
Has watching The Big Ward got you wondering if weight loss surgery is the right thing for you? Comment below and let me know, I'd love to hear from you.