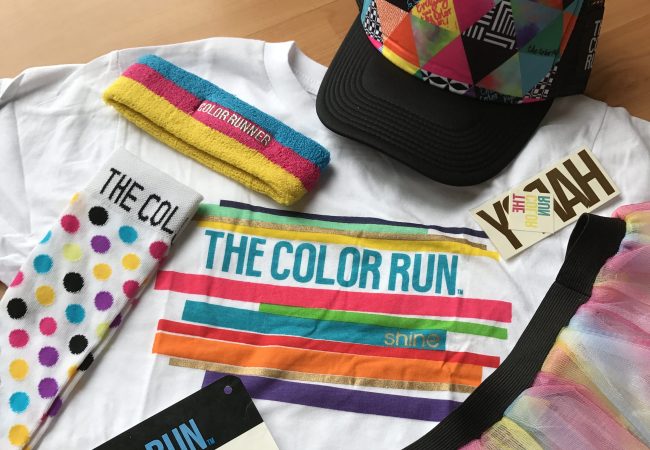 The Color Run Auckland 2017!
The Color Run came back to Auckland this year and I was keen! I did it last year in 2016 for the first time and it was so much fun that I was definitely going to do it again this year. The week leading up to the Color Run for 2017 was horrendous for Auckland weather wise. We had two really bad storms and the third one was predicted to hit on Sunday morning, right around race time, hooray!
I went to pick-up my race pack the day before the event and it was tipping it down. I posted a video on my Instagram of me splashing my way over the field to the tent to get my race pack. I felt like Peppa Pig, so many awesome puddles to splash in. I'm a bit of a princess so I had been saying all week that if the weather was really not good I was going to give the race a miss. Thankfully when I woke up on race day it wasn't raining yet. I had a good look at the weather forecast and it looked like it was going to be okay for the next few hours so I got my butt into gear and got dressed.
The Color Run race pack and merchandise!
I love getting ready for The Color Run. A beautiful white, pristine outfit complete with tutu, temporary tattoos and this year I even had spotty Color Run socks! When my little boy saw me he said I looked pretty, I'm guessing he meant like a technicolour rainbow! I got to the event just as the warm-ups were starting. I had parked a while away and walked to QBE Stadium so I already felt ready to go!
Clean and ready to go!
I made my way to the starting line a bit early this year because I wanted to be near the front of the pack. While we were waiting we got absolutely saturated. There was a bit of a downpour and our awesome white Color Run t-shirts went a bit see through! I was a bit meh with the rain but I figured it would give me motivation to move my butt and get it done quicker. I was so glad I had thought to put my phone in a snaploc bag!
Then after the MC did a good job of hyping the crowd we were off! Just after we all set off there was a foam station with pink foam spewing everywhere and it was fun to run through! I got covered in pink bubbles and the happiness set in! The route was a bit different to last years but I have to say that does help to keep an event interesting.
The Color Run teams who are at each of the color stations along the way are awesome. They must have an unlimited supply of whoops, woohoo's and high fives and you can tell when a color station is coming because they are so loud and happy sounding! The Tropicolor zone was my favourite this year. It had huge blow up pineapples and palm trees and I got coated in so many different coloured powders it was great.
The Tropicolor zone!
The Color Run is the only running event I do where I get to the finish line and I think, "Wait, what is that it?" It's so much fun and the color stations, the general atmosphere and the people really make it an enjoyable event. If you're thinking about doing an event for the first time ever or the first time in a long time The Color Run is a great one to do. It's more of a walking and running party and it's not a high pressure event where you're trying to set a good time with a ton of 'serious' runners! Oh and did I mention you get a medal for finishing!
Another medal for my collection!
Did you do The Color Run Auckland this year? Will I see you there next year? Have I convinced you to join me next year?
All finished and colourful!
Thank you to The Color Run for providing me with a ticket to the event.