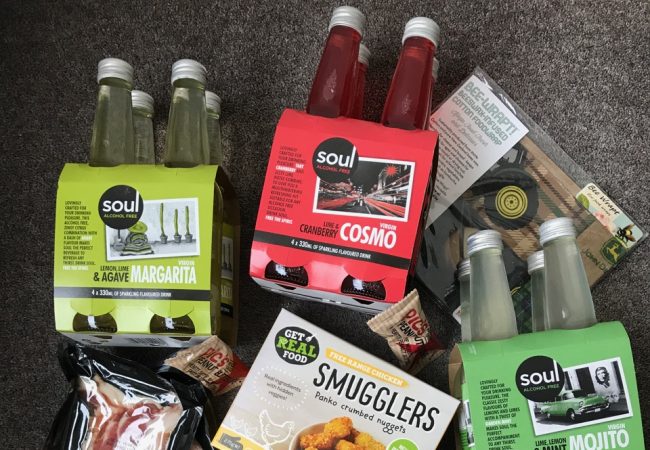 My Auckland Food Show Top 5 Picks!
The Food Show in Auckland, it is also held in Wellington and Christchurch, which is held each year is one of my favourite events. It's a great place to discover brands you didn't know about and there's always lots of yummy things to try and buy. I didn't find much that was particularly bariatric appropriate this year like protein powders but there was still lots of interesting stuff.
I wanted to round up my top five picks for you. I have to admit that my pregnancy cravings and what I feel I'm missing out on feature a bit here! I got quite a few things this year and by the time I left my trolley was absolutely packed. I recommend taking cash if you can. Quite a few exhibitors were not able to take eftpos, I was lucky the ATM didn't have a line so I was able to get cash easily but it's better to go prepared. Here's my top five favourite things I found at The Food Show this year!
Fix and Fogg Peanut Butter
I have heard about this peanut butter on Twitter before. Heaps of the Wellington twits I follow talk about this peanut butter, they are based in Wellington, so I was stoked to find them at The Food Show. They have an interesting selection, including a hot (as in spicy) peanut butter. I tried and then purchased the Honey and Dark Chocolate flavours. They use Whitaker's dark chocolate so that's a great selling point. They have an amazing show special of two jars for $10 so I recommend you head to their stand. If you can't make it to The Food Show head to their website where you can order online.
Leaderbrand Baby Beets
Countdown have an amazing display of fresh produce which just goes on and on and has some of their produce growers there with their goods. I found it interesting to talk to them and I learnt that the blueberries in Countdown stores at the moment are grown inside in greenhouses and are sweeter than summer, outside grown blueberries. Who'd have thought? One thing that really caught my eye though was the prepacked, ready to eat baby beets. I am obsessed with beetroot usually anyway but pregnancy has taken that obsession up a notch. The lovely guy I was speaking to gave me a pack to try! I can't wait to devour them in a salad.
Riverside Farm Deboned Half Duck
I love duck meat. I especially love making duck pancakes like we get at our favourite Chinese restaurant. One thing I don't love about duck is the price of it. Usually it's quite expensive to buy but these Deboned Half Ducks were only $10 so I got two. You can get them from Countdown so I will be keeping an eye out for them when we've devoured these two I got today.
Smugglers Panko Chicken Nuggets
I discovered Get Real Food's Smugglers nuggets at The Food Show last year. I have reviewed them in a post on my blog before and you can find that here. These are on an amazing special at The Food Show, you can get four of any of their products (I'm fairly sure but don't quote me on it) for $20. I got four boxes of these and am well stocked up now. These chicken nuggets are made with free range chicken and have awesome ingredients like cauliflower in them. I think they are the healthiest chicken nugget you can buy and so good for our tiny tummies!
Soul Alcohol Free Cocktails.
I was walking past what I thought was yet another alcohol stand only to spot the "alcohol free" on their sign. I made a beeline for the stand because being pregnant and not drinking cuts out many stands at The Food Show. I tried all three flavours Mojito, Cosmo and Margarita and they were all good. Their show special was three four pack for $12 making them $1 a bottle which was a great deal so I got a four pack of each. I read the label when I got home and they are quite high in sugar but they will be a nice treat on the weekends occasionally. They are available from heaps of supermarkets in New Zealand so shouldn't be too hard to find.
If you're into food you need to head to the Auckland Food Show this weekend. If you want my tips of how to make it the best experience you can read this post here. If you want to buy tickets in advance, then head here. Are you planning on going to The Food Show? Is there anything in particular you're looking out for?