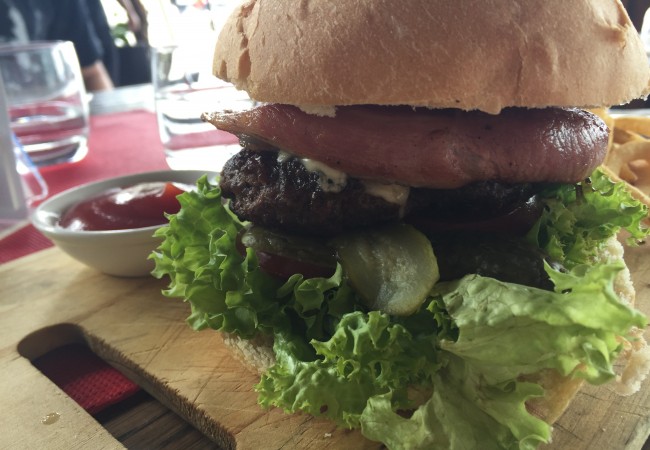 How I approach eating when I go out to eat!
One of the biggest worries I had in the lead up to my gastric bypass surgery was what eating out was going to be like afterwards. I have always enjoyed going out to eat and the break from having to cook and do the dishes is always welcome! It's taken me a while to figure out what generally works for me when I eat out and also what I can resort to when there isn't a huge menu.
Recently we went to The Conservatory in Auckland's Wynyard Quarter for lunch. Their menu is pretty standard for a 'normal' NZ restaurant with pizza, a selection of main dishes and some side plates too. I went for the 'Moo burger' and thought you, my readers, might find it interesting how I tackle a meal like this when I'm out. I often find that a beef burger is a good option for me to fall back on if I'm unsure of the rest of the menu. My tiny tummy does not tolerate any spicyness AT ALL and I need to be careful not to order things that are hot. This can be quite limiting depending on where you go.
I need to point out that there's no way I'd ever be able to eat a whole restaurant beef burger either. I made peace with paying for a whole meal and eating maybe a quarter of it at the most a long time ago. When it's brought out I take the bun off the top straight away. Bread especially makes me feel full really fast so I avoid it as much as I can. If I can get some aioli or sauce on the side then I do because if it's a bit dry it will be easier to eat if I can add some dressing to it.
This is my destructed burger ready for me to start eating!
Then I chop my little creation in half and begin! I always have to make a point of remembering to eat slowly when I'm eating out because it's too easy to get carried away with everyone else quickly tucking into their food. If I take my time I'm okay though, it gives me a chance to talk everyone's ears off while I'm waiting between bites. One of the biggest choices I have to make when I'm out is deciding if I will have time to fit a drink in before or after my meal. I usually get one to start, have a little bit and see if I can manage anymore at the end if there's a big enough gap. Sometimes I can and sometimes not.
On this particular occasion I managed half of the burger patty and bacon and about a quarter of the bottom bun. I also ate about 5-10 shoestring fries. When I'm done it often looks like I've only just got started. I find now that often the staff will stay away for ages before clearing our plates because they don't want to be rude and take it away while I'm still going. I make a point of putting my cutlery together so they can tell I'm done. I usually follow-up with a comment that it was nice but I just can't eat much since I've had so many worried looks and questions in the past when I've barely eaten anything.
And I'm done. I was so super full after this it wasn't funny.
I did used to try and order a burger without the bun because for the negligible amount I eat there's not really much point but so many places just can't cope with that concept I stopped asking for them to make it that way. There's not really much that can go wrong with a burger and in NZ especially I find the beef patty is often pretty good quality and it is a great protein hit for me.
Have you developed any strategies for eating out after having bariatric surgery? Comment below and let me know I'd love to know how you manage this aspect of life after surgery because it can be difficult to juggle.