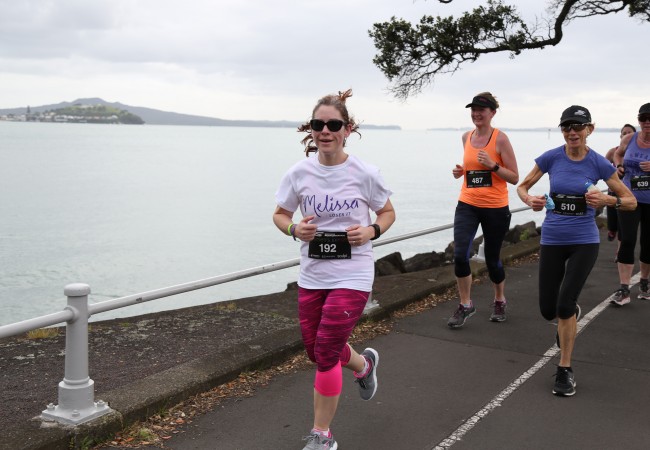 Skechers Women's 6+12k Run 2016!!
Three years ago I participated in my first organised running event and did the Skechers 6k run. That run was the start of a whole new love affair of mine and now I love doing running events. When I saw that there were two distances for the Skechers Women's Run this year I immediately decided to do the 12k, the fact you got a medal for the 12k distance sealed the deal for me!
Spoiler Alert: I got the medal!
The first year I did the Skechers 6k I was really nervous. I doubted if I was going to be able to do it and I got really nervous in the lead up. I trained for the event and prior to it the biggest run I had done was 5k. I had such a sense of achievement when I crossed the finish line, I never thought I would be capable of running that kind of distance even after I lost weight so it was a major milestone for me. In the last couple of years my running has really come on well and I was excited to tackle a new event distance.
The atmosphere of the Skechers 6 + 12k is so, so amazing and is one of the main reasons I keep coming back to do it. There are always so many different women who are all there to have a great time and smash their goals together. It is a really supportive, inclusive and encouraging environment and I love being surrounded by a big dose of girl power. Some of the participants ran, some walked and some walked/ran which is great because it means you can do whatever you want to do on the day.
Some of my race day essentials: My new Skechers Go Run 400 Shoes, A Sculpt protein shake to start my day and the Melissa Loses It t-shirt I had made for the event!
How did I go this year? I had a really good lead in to my training this year. I started a few months out from the event and for two months my training was on track and I was getting fitter and fitter and my distances were getting longer. Then I hurt my knee and then got a cold which knocked my last few weeks training before the event off course but I still did as much as was sensible and I could manage. In the week leading up to the Sunday event I did two 4k runs just to make sure I was okay and my cardio fitness hadn't been impacted on too much.
Going by how my training had been going before things started going wrong I had a goal in mind of wanting to do the 12k in 1 hour and 20 minutes. That required a pretty good pace from myself but the Skechers event course is absolutely flat and I train in a hilly area so I always tend to do better on race day without the hills. I managed to smash the run out in 1:17:00 by the official timing from the run chip I had on. I beat my goal by a whole three minutes even though my training hadn't been how I wanted it to be for the last few weeks! My average pace for the day was 6:21 per kilometre which is about as good as I got when my training was going well.
Here I am approaching the Cloud, finish line is in sight!
Photo Credit: Purchased from Marathon-Photos.com
This is the first year the event has been officially timed and it was awesome because it means they released the results and I can see how well I did compared to everyone else. From what I can tell about 927 people did the 12k distance. Out of all of those people I ranked 220th which I'm so stoked with! I came within the top quarter of entrants!! This realisation of how well I did actually makes me feel like I really am a runner. Getting back into running after winter has been different. It's started to come much more naturally to me and I enjoy it so much.
I felt pretty good after the run considering I hadn't done a 12k run before. My lower back was sore for a couple of hours afterwards but I think it was just from enduring a much longer run that usual. Later that evening though I started getting really bad tummy pains and I ended up going to A&E because I was worried. Turns out Runner's Belly is a thing and my insides were complaining about being bounced around more than usual. I'm managing it with Panadol and codeine and I'm sure I'll be fine in a couple of days with some rest.
Crossing the finish line!!
Photo Credit: Purchased from Marathon-Photos.com
A whole heap of my fellow weight loss surgery buddies did the run this year too. It was so cool seeing my awesome friends do really well and prove to themselves just how amazing they are! We have decided it's going to be a tradition for our surgery group and we're going to try and rope more and more people in to do the Skechers 6 or 12k event with us every year!
Did you do the Skechers 6 or 12k events this year? What did you think, was it an awesome way to start your day? Have I convinced you to join in next year, I hope I have! Comment below and let me know!
FYI: I was lucky enough to receive a media pass for this event this year. If I hadn't of I would have paid for my ticket anyway. Skechers gifted me the new Skechers Go Run 400's that I wore on the day, look out for a review on my blog soon!