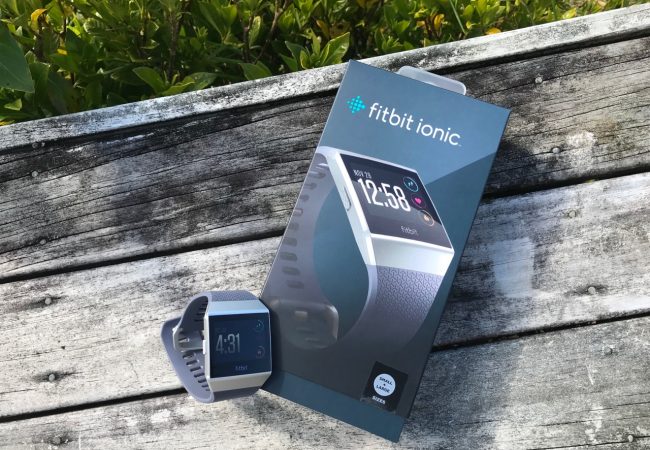 Fitbit Ionic Watch Review!
**Please note: As a part of the media launch for the Fitbit Ionic I was given this device from Fitbit to review. That being said this is an honest review of exactly what I think and, had I paid for It, my thoughts would remain the same.**
I have a love affair with Fitbit. I got my first one over two years ago and I haven't looked back. I am quite into tech and gadgets generally but I have to say Fitbit is one brand that never fails to impress me. The leaps Fitbit have taken with the Fitbit Ionic Watch are amazing and I can't wait to tell you all about it.
The Fitbit Ionic Watch is a bit more than a pedometer and fitness tracker, that's how Fitbit started out, but gosh how they have they grown. This watch is a complete wellness tracker with some awesome smart watch functions added in there too. The main cornerstone features Fitbit are touting with this new Ionic Watch are Personal Coaching, Built-in GPS, Storage of Music, Heart Rate and Multi Day battery. To be honest, this is only the beginning of the awesome features! If you want to see all of the features this device has here's the NZ Fitbit website to have a good look through them.
This device is water resistant, you can wear it in the pool and track swimming and other water based workouts, it has multi-sport modes which to be honest I have come to expect from earlier devices. I'm a big chicken though and even though I know the device is water resistant I haven't made it go for a swim yet! It automatically picks up workouts with Smart Track, Guided Breathing, Sleep Stages tracking, the stored music can be played wirelessly to Bluetooth headphones. The device works with the great Fitbit phone app you're already familiar with and displays data in an easy to use and read way.
As if I needed proof I don't get enough sleep!
The Fitbit Ionic Watch has everything you have come to expect from a Fitbit, Heart-rate tracking, Fitness Tracking, GPS Tracking of your workouts, a detailed colour screen that shows multiple stats at once, and the 250+ steps an hour to encourage you to be active all day. Because they are always working on their technology all of these features are better than they have been in previous devices. I'm not going to talk about these features individually because there's too much new ground to cover.
Where this device sets itself apart from previous Fitbit's is, as well as all of those health and wellness tracking and monitoring features, you can download apps (like Strava for you all avid runners) to the device as you would with a smartphone, it can make payments with a NFC chip (like paywave), has customisable clock faces and has a multi-day battery. One of my favourite features is the call and text notifications from your phone and I'm glad they kept this with the Ionic.
The clock face I picked!
I have really enjoyed having apps on my Fitbit Ionic Watch. Particularly useful is the weather app it comes with. I have to say I didn't expect much but it goes into quite a bit of detail. It tells you the temperature, chance of rain, sunrise/sunset, and what to expect every couple of hours during the day in terms of weather and temperature. The relax app which helps you do guided breathing is a great carry over from the Charge 2 device. It's awesome having it in an app form on the Ionic and the bigger screen means it can be more directive and use more words when it tells you what to do.
The app selection screen, just swipe left to see the other apps!
One thing I am really looking forward to is the Fitbit Pay feature, being able to pay for things with the NFC chip I mentioned earlier. There are two banks in New Zealand that are going to support this feature, ASB who already have it up and running and Westpac who haven't got it live yet. Of course out of those two I bank with Westpac. I can't wait for this to be up and running with Westpac because it's going to be a super handy way to pay for my coffee in the morning. It enables you to go for a walk/run with your friends and stop for a coffee later without having the worry of needing to carry your wallet or eftpos card with you while you're exercising. This is the kind of stuff that Fitbit do that seriously impresses me, they keep finding ways to make our lives just that little bit easier.
This feature seems quite straightforward to setup. I tried to do it but it wouldn't validate my card (please hurry Westpac!) You set cards up on the Fitbit app on your phone and you must add a pin code to your Fitbit Ionic for security reasons. You can then pay from your Fitbit by holding down the left hand button for two seconds. There will hopefully be more apps made for the Fitbit Ionic too. All of the information needed for developers is out there we just need some clever people to make some. Apart from the apps that come preloaded there aren't any others available in NZ yet.
The ability to store music on the device and play that to Bluetooth headphones is another thing that gives you so much flexibility. You can leave the house for a run or walk without your phone to play music! Fitbit also have some Bluetooth headphones coming out and they are awesome. I listened to some music through them at the Fitbit Ionic launch and the sound quality was great. The device will pair with pretty much any Bluetooth headphones though.
One fantastic thing about the Fitbit Ionic Watch is that it comes with small and large bands in the box. There won't be any confusion or returns needed because you have the wrong sized band. The band is really easy to clip off and on again which is great when it comes to cleaning or changing it. The screen on this device is amazing. It is so clear and impressive to look at and its touchscreen as well! Having three buttons and being touchscreen gives the device so much more capability. There are a range of screens you can choose from and it's really easy to change between them.
The sport bands look pretty cool and I am seriously considering getting one for when I start running after this baby has been born. I like the band that came with the device but I would like one that's a bit more breathable for exercising with. My skin is quite sensitive and it copes with the normal band fine usually but if it gets sweaty and moves around a bit I can be in trouble and get a rash.
**Updated 11/12/2017** I got a sport band! I ordered the black one from Fitbit and then a week later Fitbit sent me one after reading my review! I did pay for the one I am using and will do a wee giveaway on my Instagram soon with the spare one I have. The Sport band is really comfy to wear. The thing I like most about it is that you can fasten it anywhere on the strap because it's full of big holes. I think this is really important with a sport band because you need to get it comfortable and at the exact right point when you're exercising with it. Since I'm heavily pregnant at the moment I haven't exercised with this band yet but I have worn it to the beach and it was perfect for that environment. It's looking like this summer is going to be pretty hot in Auckland so I may end up wearing the sport band more often since it's so breathable and comfortable to wear.
The Fitbit Ionic sport band in black!
Fitbit also sent me a leather band. I've not had a leather band with any of my previous Fitbit's and I have to say dear readers, they take wearing a Fitbit up a notch. It is so luxe and comfy it's out of this world. The device is just plain and simple nicer to wear because the band feels so good on my wrist. The bands that Fitbit's come with are great, they're functional and I've never felt the need to get a different one before but I think from here on out a leather band is going to be a must have accessory with any Fitbit for me. I know I've said this a million times now but just when I thought I couldn't love Fitbit more this leather band has made me swoon for Fitbit again. I can't recommend getting a leather band enough! You can find them on the NZ Fitbit store here.
The Fitbit Ionic looks really sleek on my wrist. I have the silver and grey combination and out of the three colour ways I think this suits me and my wardrobe best. The watch face is far slimmer and has a much lower profile on my wrist than any previous Fitbit I've owned. The Surge in particular felt so bulky on my wrist I only ever really wore it for running with. This one is so flat and the bands curve off the face better which I think contributes to it being so nice and easy to wear.
There is one thing that slightly bugs me about the device (and note this is the software tester coming out in me). When you push a button to bring something else up on the screen, initially the screen goes black until the thing you want loads and comes up. Initially, I thought I just kept turning the screen off and then would later notice the screen was illuminated and the thing I wanted was there but I would prefer if there was some sort of loading or splash screen that comes up instead of the screen going blank.
At the launch for the Fitbit Ionic we had some awesome speakers telling us about the work Fitbit are doing. The amount of data they have got to work with now is incredible. Think billions of steps logged, millions of night's sleep and a huge amount of heart rate information. They are working with the medical and insurance industries in the US to develop more and more awesome things. They are working on technology to enable a device to read your blood sugar periodically and send that to a device that could alert you if it's getting too high/low. This would be incredible for diabetics. Fitbit are using the data they collect in the most amazing ways. It's awesome to think by wearing a device to encourage your own health and wellbeing you are contributing to a larger pool that's enabling awesome technology to be developed.
The exercise tracking with the built-in GPS is pretty spot on. Admittedly I haven't gone for a run, being 27 weeks pregnant and seriously out of practice with running it didn't seem like a good idea. I have tracked walks with it though and have found the GPS to be quite accurate. For me, this is really important because correct tracking of distance means that your splits and average pace are correct and that's a huge thing I focus on when I'm training for an event. The amount of data you get on your wrist when you're exercising is awesome. You get your overall time, distance and a minute/second timer on the default face. You can then swipe to go through your distance, the current time, how many steps, calories, current heart rate and average pace. Once you have finished your workout it tells you all of your totals stats on the screen for your workout. I love being able to see all of this stuff on the device and not have to sync the device to my phone just after finishing my workout.
The charger for the Fitbit Ionic is pretty good too. I liked the grabby ones that the Charge 2 and Alta HR had and even though this one isn't a grabby one it still manages to stay on. The charger has a magnetic end that helps it stay on the device when it's charging. The only time it's come off is when my kid has gone near it and physically knocked it off the charger. It charges pretty quickly too. In the space of me taking a short shower it can charge about 20-30% which is awesome to keep it going every few days. I've been charging my Fitbit Ionic Watch about 2-3 times a week and generally only one of those is a full charge.
I am usually super thorough in my Fitbit reviews and I try to test and write about every feature on the device so you can get a comprehensive overview of everything with the new Fitbit. I have to be totally honest though and say that even though I've had this device for three, almost four weeks there is just so much included in it I haven't had time to really get into every aspect of the Fitbit Ionic. That being said is the Fitbit Ionic too much of a good thing? Uhh no!
Overall, I really like this device. The Fitbit Ionic really takes Fitbit up a notch and more than ever it's getting almost everything you need into one device. I love the Ionic itself, it's comfy to wear, looks great and has a really decently sized screen. The tracking of steps, sleep, exercise and everything else that's just part and parcel of a Fitbit now is all there, enhanced and even better before. The new features that have been added to the Fitbit Ionic like the NFC chip for Fitbit Pay and the fact it's water resistant and can be worn in the pool will make all of the difference for some people, I'm sure. If you're yet to start wearing a fitness tracker, want a fancy watch or are looking to upgrade your current tracker I cannot recommend the Fitbit Ionic highly enough. This is my favourite Fitbit yet and believe me that's a huge call to make. In giving this device an out of five rating I give it a solid 5/5 stars!
The recommended retail price for the Fitbit Ionic in NZ is $499.95 and it's widely available online or in physical stores. Are you lusting after the Fitbit Ionic? I feel so lucky to have been given one to review and I hope you manage to get your hands on one too! If you're really good Santa might bring you one this Christmas. Do you wear a fitness tracker? Is it a Fitbit or another brand? What's the standout feature of this new Fitbit Ionic for you?
**Please note: As a part of the media launch for the Fitbit Ionic I was given this device from Fitbit to review. That being said this is an honest review of exactly what I think and, had I paid for It, my thoughts would remain the same.**