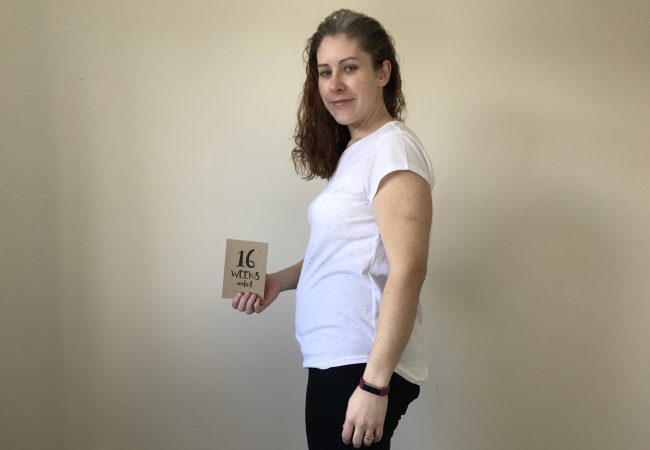 Pregnancy after bypass: Week 16 pregnancy diary
This week has been a good one. Finally, after what seems like forever the fog of constant and brutal tiredness has lifted and I feel semi-normal again! It has made such a difference to my week not having to be in bed by 9pm and I've got a lot of my study done. This week the baby is about the size of an avocado from head to bum and it's set to start doing a lot of growing and fattening up.
We started week 16 off with a kids' birthday party. It was Sunday afternoon which is usually when I'm doing all of my prep for the following week so I made sure I got it all done in the morning before we left. When we got home everything was done and I went and sat in bed for about 45 minutes while I did my wellbeing journal and mucked around on my phone. It was bliss. I don't often get time to do stuff like this but I must make an effort more often.
On Monday I had my second midwife appointment. My midwife is away at the moment so I saw a different midwife but she was lovely. Everything has been pretty smooth sailing so she did her usual checks, my blood pressure was nice and low at 117/74, and we got to hear the baby's heartbeat. It took her a while to find it but she said it's quite normal at this stage with how active they tend to be.
I did wonder if I would start to feel the baby this week as the pregnancy apps I have said second time mum's might notice from this week on. Sadly, I didn't but it's definitely something to look forward to. My tummy is starting to become a bit more noticeable and I'm sure it popped out a bit more a couple of times this week.
Mum and Dad came down and stayed a night with us this week. It was really nice to see them and Mum had got the baby a couple of the super cute Hairy Maclary range that The Warehouse have at the moment. It's the first gift we've been given for this baby and it was exciting. We had a nice time with them and the next day we went out for lunch for my grandmother's birthday.
How far along? 16 weeks now so almost hitting the four month mark!
How big is the peanut? About the size of an avocado from head to bum.
Total weight gain/loss? This week I gained 800g, eek!
Maternity clothes? I'm still wearing most of my normal clothes apart from my maternity jeans and a couple of my bigger t-shirts.
Sleep? I had a couple of restless nights this week but overall it wasn't too bad. I managed to get through a whole night without needing to get up to pee and that felt like an achievement.
Best moment this week? Hearing the baby's heartbeat at my midwife appointment. It's so reassuring to know everything is okay and they're happy in there.
Symptoms? All of my symptoms have eased off. It's mainly my growing tummy at the moment. I feel like a new woman now that the tiredness has receded a bit.
What I miss? This weekend I really could have done with a wine but oh well.
What I'm looking forward to? My next scan, I got the referral form at my midwife appointment and was able to book it so now I'm counting down the days!
Bump? Is happening. It's starting to get noticed and aside from my belly getting bigger everything else seems to be staying where it should.