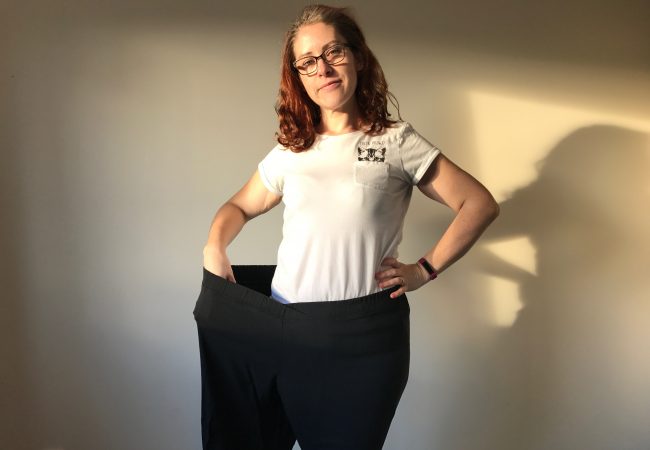 My four must-do things to track your bariatric journey!
When you're going through your bariatric journey and your whole life is revolving around it you don't expect that you're going to forget the little details, and some of the not so little ones too. Each of our journeys with weight loss surgery are so different and we need to make sure that we celebrate our successes and progress to keep giving us the motivation to push through when it gets tough. I thought I would make a list of the things I'm really pleased I did after my gastric bypass and what it's given me to look back on now.
Keep your favourite pre-surgery clothes
I have kept a pair of pants, my favourite ones I had multiples of, a t-shirt and a couple of other things that had particular significance to me. I can get my whole self into one leg of those pants now (as you can see in the header photo) and it does not fail to blow my mind. When you get used to being smaller and the general size of your clothes you totally lose perspective on how big your clothes used to be. It's awesome to have a physical reminder of quite literally how far you have come.
Take regular full-body photos
I only ever did this fully clothed but now I wish I done them at the same stages in my undies too. It's incredible to do side by side comparisons with the photos every month and when you can't see your progress it gives you the motivation you need to keep going. You will be amazed at how your body, face, literally everything changes and you will need photographic evidence to believe it. If you don't want to see the before and early progress shots don't look at them when they're taken but I promise they will be invaluable as you get further down the road.
Take your measurements as well as your weight
We all weigh ourselves at varying frequencies after surgery and it's one of the most fun things to do after surgery when your weight is dropping like it never has before. It's important to take your measurements too because your weight is only part of the story. If you get stuck in a stall when your weight won't move despite you doing all the right things you will often find your measurements are still moving in the right direction. I have heard so many times of people being stuck in a long stall but their clothes are still getting baggy on them.
Keep a record of how you're going and feeling
One thing I regret is not starting my blog earlier. I did write a few posts that I put up in a weight loss surgery community which I went back and found but I really wish I was making a consistent record from before surgery. You don't have to go as far as I have and start a blog and publish these things for the world to see but you will like the record to look back on one day. You really do forget so much about the early stages and how you felt that it's good to have that to remind yourself. You can also get in the habit of recording your NSV's when you have them!
Have I given you some good ideas of how to track and remember your journey? Did you do all of these when you went through the process? Is there anything you regret not doing now that you're post-op? Comment below and let me know, I'd love to hear from you.