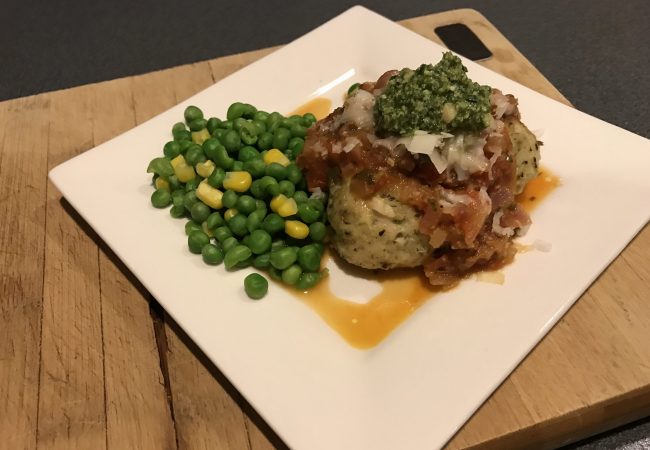 Chicken and Pesto Meatball Recipe
I posted a picture of my Chicken and Pesto Meatballs with a chunky tomato sauce on Facebook and Instagram the first time I made them and everybody went crazy! They were so good that even my kid ate them all (this hardly happens). So I thought I'd have to do it all again and make sure I record what I did so I can share it with you all.
I got my original inspiration for this recipe from the 5 Day Pouch Test book but I tend to use recipes as rough guides so I have changed it up a bit. Also the sauce is all me! This recipe makes about 20 meatballs and it's enough for us three to have dinner and I tend to get 3-4 lunch sized portions out of one batch too. The recipe below is how I serve it for me but for my boys I cook them some spaghetti to go with the meatballs. As well as the meatballs and sauce I steam some veggies to go on the side. Feel free to choose whatever you have in the house that's handy.
Ingredients:
Meatballs
500g Chicken mince
1 Small or 1/2 large onion – diced
1/3 Cup of pesto (keep some extra for garnishing)
1/3 cup grated parmesan (keep some extra for garnishing)
A pinch of salt
1/2 cup breadcrumbs
Splash of olive oil
Sauce
1/2 Large diced red onion
40g Stir in basil paste (better yet if you have fresh basil go crazy with that)
1 heaped teaspoon of minced garlic
1 tin of diced tomatoes
(Add water if necessary)
Splash of olive oil
Method:
Turn your oven onto bake at 180C. Place all of the ingredients for the meatballs into a large bowl and combine them well. Roll the mix into a big ball and then cut into quarters. Roll 5-6 meatballs, as similar in size as you can, from each quarter of the mix. Put a small drop of olive oil in the bottom of a baking/roasting dish and spread it to cover the base. Put the meatballs in and spread them evenly throughout the dish. When the oven is up to temperature put the meatballs in. About halfway through take a pair of tongs and turn the meatballs. These will take 30-40 minutes to cook through depending on how big they are.
The sauce:
The halfway point of your meatballs being cooked is a good time to start this. Heat up your saucepan and then add a splash of olive oil, the diced red onion and heaped teaspoon of garlic. Stir it to mix it and prevent it sticking to the saucepan. Once the onion and garlic are soft add in the basil. Once that is wilted or well combined and has cooked off a bit add in the tin of tomatoes. Stir it well and leave it to come to the boil. Once the sauce has boiled reduce it to a simmer until you are ready to serve.
I always take a meatball out and cut it in half to make sure they are cooked, I take a few out in advance to cool for my son and this is when I check them. I find a good portion for me is three meatballs, some sauce and some veggies. This is the portion size I would have for lunch too. When you are ready to serve place your meatballs on your plate. Spoon some of the chunky tomato sauce over the top, sprinkle some of the leftover parmesan and put a dollop of fresh pesto on top to garnish. Add your veggies and you are ready to serve.
The meatballs are all cooked!
I am loving these meatballs and the pesto flavour is one of my family's favourites! The fact my little guy wolfs them down is a huge bonus. This recipe is really easy to put together and packs a huge amount of flavour. High protein, bariatric appropriate meals can be really easy and this one easily covers the rest of the family just by cooking them some pasta to go with it. After reading the ingredients list on the stir in basil paste I am going to try and use fresh basil where I can. The second ingredient is sugar! Until I wrote this I had never checked the ingredients thinking it was just smooshed up basil. It goes to show you always need to read the food labels.
Does this recipe look good to you? Is this the kind of food and flavours that you like? Comment below and let me know, I'd love you to share your thoughts or photos with me if you make it yourself!