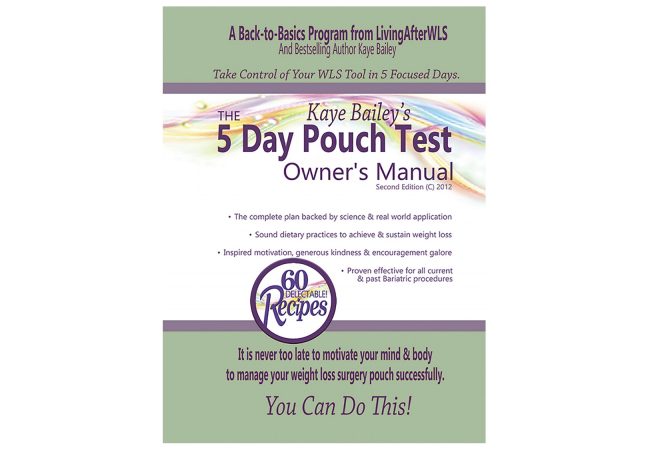 Melissa Does: The 5 Day Pouch Test
The 5 Day Pouch Test is something I've been meaning to do for a while, mainly for blog research and I just hadn't got around to it. I was planning to do it at the end of January and then I got struck down with Campylobacter so it didn't happen. I decided on a whim to do it yesterday because, much as I have been trying to get it in check, my snacking has got out of control. I needed a total change and chance to re-focus so it was high time I did the 5 day pouch test.
The 5 day pouch test was developed by a post-op gastric bypass patient and the main point of it is to get that feeling of restriction back if you aren't feeling it anymore. Some people get to a point where they think they have 'broken' their pouch and this is a great way to reset it. For me though, it's more about breaking my snack habits. My meals are still mainly protein focused, the right portions and I know when to stop but it's the snacking between meals that I have been struggling with. If you want to see more in depth what the 5 day pouch test is and read the fantastic advice that comes with it you can get the book, The 5 Day Pouch Test Owner's Manual, here on Amazon.
The 5 day pouch test goes like this, day 1 and 2 are liquid days. Then day 3 is soft proteins, day 4 firm proteins and day 5 solid proteins. The point of it is to mimic the dietary stages you go through after surgery to get you back on track and focusing on the things you should be doing to maintain your weight post-op. As we have all been told a million times weight loss surgery is a tool and you know what, sometimes we need to go and tidy up our toolboxes. I thought I would write about my experience for you, my lovely readers, because thinking about it and reflecting on it is going to help me get the most out of it.
I started writing this post at lunchtime on day 1 of the 5 day pouch test. This morning I woke up and probably because of the chocolate and other snacks I ate over the weekend I feel a little bit hungry before breakfast. I've gone back to Balance 100% Whey protein shakes for this because they are lower in carbs than the egg white protein shake (most of the carbs are in the yogurt) I have been having lately. For my breakfast shake I had the Lime flavour and made that with half milk and half water. It went down well in the 15 minute eating window the 5 day pouch test recommends.
On my way to work I got a small latte, that's one habit I'm not even going to start to try and break. Over the morning I managed to drink 1.5 litres of water and I'm feeling really thirsty today which has been helping me to get it down. For lunch I had a strawberry Balance shake and I prefer that one made just with milk so I used 200ml of calci-trim milk to make that one. I also had my usual lunchtime coffee, this time a large latte. The day is going well so far. I'm not feeling at all hungry and I haven't felt like I'm missing out or want to eat anything. Let's see how this evening goes because I don't think it's going to last.
The evening at home was much harder than during the day at work. I had cleaned my drawer at work out of snacks on my last day in the office last week so there was next to no temptation there. When I got home I made dinner for my little guy and then when he had finished he had some of his Easter chocolate and gosh it drove me insane. I ended up cracking (ha ha geddit) and I had one mini egg. It was nice but I felt a bit guilty for having something I shouldn't. I had some soup in the fridge for dinner and I ended up having some at about 6.15pm because being at home and surrounded by food I started to feel hungry. One of the main points of the 5 day pouch test is that you don't have to restrict calories. As long as it's on plan, you can have another serving of soup so long as you wait a whole hour between meals. I ended up having an additional serving of soup (1 cup) because I was hungry and getting a bit lightheaded after a day of liquids only. Over the evening I had a quarter strength 500ml serving of BODIE'z protein water too.
To be honest day 1 wasn't as bad as I initially thought it would be. I was absolutely fine until I got home and had to make dinner for my little guy and then the chocolate started to taunt me. I'm really proud of how I handled the day though, I wouldn't have made it through without coffee and while coffee is not encouraged because of its diuretic properties it's my only vice and I'm not willing to give it up at this point.
Day 2 began and unlike yesterday I didn't wake up hungry, maybe that's progress already! I had a Lime Balance half milk, half water shake for breakfast again. As always, got my coffee on my way to work and over the morning managed to drink just over a litre of water. For lunch I had a strawberry Balance shake made with 200ml of Calci-trim milk again like yesterday. My afternoon coffee again helped to break up the monotony! I've found the daytime easy again today, I really think being at home with a pantry full of yummy looking stuff really doesn't help.
Once again the afternoon was really hard and the Easter chocolate got the better of me. Doing liquids for two days I struggle to understand how I did it for three entire weeks after my surgery. I know that the circumstances were totally different and I wasn't battling carb withdrawal but gosh liquid diets suck. I only ended up having one, one cup serving of soup for dinner because I was kind of over the day and liquids to be honest. I managed to get in 2.2 litres of water over the day so I did well on my fluid intake today.
One of the main things to point out about the 5 day pouch test is that it's not a tool for weight loss. Most people will notice they lose weight through doing it but if you're thinking it's a good idea to do to kick-start weight loss after surgery then you need to check yourself. These are the exact kinds of thoughts and behaviours that got us to the place of being morbidly obese to begin with. The main reason I wanted to do it was because my snacking has got out of control and I knew I needed to shake things up to get my focus off of it and reset my daily habits. It has been a battle over these first couple of days keeping these habits in check and not snacking and I know I have to stick to my guns when the 5 day pouch test is over.
These first two days have been surprisingly easy, if you discount the evenings and I wonder if it's because I haven't been eating real, solid food. Day 3 is coming up and I think, as is usually the case with these things, the third day is going to be the hardest. I'm allowed to eat soft proteins and I'm interested to see if it makes me want to eat EVERYTHING!!
I think this is enough of me rambling on about day 1 and 2 of the 5 day pouch test so I'll end this one here but you can see how the rest of it in a part two post went next week. Have you done the 5 day pouch test before? Is it something you think could be beneficial for you?
If you want to purchase the book, The 5 Day Pouch Test Owners Manual, you can get the digital or paperback versions here.