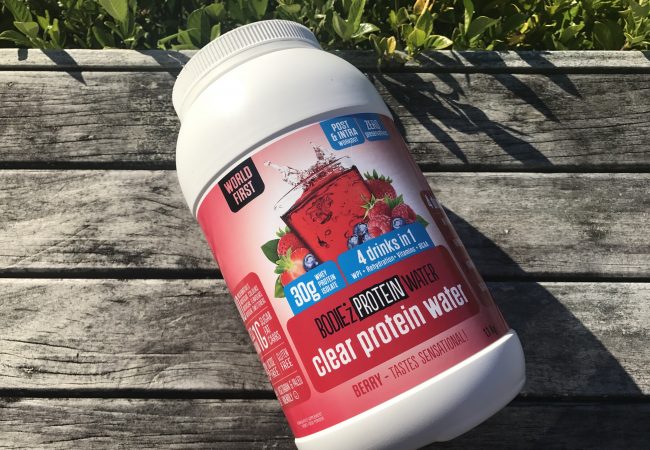 BODIE'z Clear Protein Water Review
After weight loss surgery getting protein in becomes 'a way of life. It's a big focus and daily goal that always needs to be met. Once you get into a routine and learn enough about the foods you eat regularly meeting your protein goal becomes easier. There are still days though, even three years out from surgery, where I struggle to meet my goal and it's always good to have a backup in case things don't go to plan. This is where I'd like to introduce you to my new saviour, BODIE'z protein water! If you're already keen you can get it here.
When I heard about BODIE'z protein water I was instantly intrigued. It is an isolated whey protein that when mixed with water goes clear, not milky. There's 30 grams of protein per serve, less than 1 gram of sugar, fat and carbs and has no preservatives, artificial colours, flavours or sweeteners. To be honest it almost sounds too good to be true!
The only place I could find it to buy in New Zealand was from AMS Nutrition. They have a great range of bariatric supplements, accessories and nutritional products available and you should go and check them out here. I got in touch with them and asked if I could have some BODIE'z protein water to review here on Melissa Loses It and they very kindly obliged!
I set to reviewing it that night when I got home from work. The first time I made it up, I made it to the proportions that are recommended on the tub. I put cold water and the powder into a normal protein shaker (with the agitator bit in) and shook it to death as was recommended. It went super frothy! Like I could scoop the froth out with a spoon and I kind of had to. I enjoyed it but the flavour was a bit strong and it was a bit sweet for me made up at the recommended strength.
The next time I made it up I did a quarter of the recommended amount of powder to liquid. So for 1L of water I put in one scoop of powder. I also didn't use the agitator bit in the shaker when I shook it. This time I have to say I much preferred it. It didn't foam up anywhere near as much as it had the previous time and it didn't have very many lumps left in either. Also the taste this ratio of powder and water gave was really nice. It wasn't too sweet and it wasn't at all offensive with any weird protein taste.
A 1.1kg tub of BODIE'z Protein Water has 21 serves of two scoops in it. If you were to make it to my ratio of 1 scoop per 1L of water you would get 42 servings out of one tub. Out of one scoop you are getting 15g of protein which, going by my guidelines, is a quarter of my daily minimum protein requirements. There are basically no carbs, sugar or fat in this either so it's not loading you with heaps of other unwanted nutrients and calories either.
BODIE'z protein water is such a nice change from milky shakes. I can see this fitting into my days when I haven't quite got enough protein in, if I've forgotten to eat a meal or as a change when I don't want my normal milky protein shake for breakfast. I really wish I had this when I had campylobacter because it would have been perfect to help me keep my fluids up and get some nutrition in too.
To sum up, I'm sold. I will be making sure I have a tub of BODIE'z protein water around for when I need it. It's not going to be an everyday thing but I can see it will make a nice treat drink at the end of some days when I'm thoroughly bored of water. In terms of a star rating I'd give BODIE'z protein water 5/5. It's not cheap at $95 for a 1.1kg tub but if you use one scoop per drink it works out to $2.26 and that's less than my morning coffee! To get your hands on a tub head to AMS Nutrition, the hardest decision you will have to make is which flavour to start with Berry or Orange!
Have you been thinking about trying BODIE'z protein water and just weren't sure? Is this the first you've heard of it and are you super excited to try it? Comment below and let me know, I'd love to know what you think about it.
Please Note: I was sent this product on request from AMS Nutrition to review. I was not obligated to post a review and if I did not like or have any reservations about the product I wouldn't have shared it here with you. This is my honest review and I would have said the same if I had paid for it.