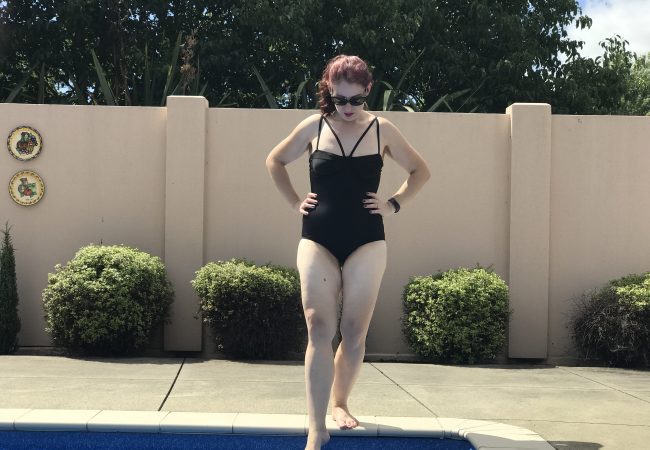 Hands up who likes shopping for swimwear? Any takers? Didn't think so! I think most of us have been traumatised at some point in our lifetime by going shopping for swimwear. I have always eyed up Lonely Lingerie and swimwear but it wasn't until I found the Lonely Mila swimsuit that I fell in love. Swimsuit shopping is now far easier psychologically but because of how my body has changed it's not necessarily easier finding something to suit.
Lonely Label is a design house that is based in New Zealand and I have always loved their work encouraging the Lonely Girls Project which shows a wider range of girls and bodies wearing their pieces. Now that my weight has settled and I know I will fit my clothes for more than a few months I thought it was time I invested in a Lonely swimsuit. I had a look at who their stockists were in Auckland and decided to go to Smith and Caughey's on Queen St in central Auckland to try a few on.
Lonely have a great range of styles, cuts and pieces that would suit a range of different bodies. One thing I very quickly figured out was that I needed something with an underwire in the top. As I covered in this post my boobs are not in the best shape after losing 70 kilos and the underwire makes all the difference! I ended up picking out the Mila swimsuit and I love the detail on the top because it's very synonymous with the Lonely brand.
The Lonely Mila swimsuit is awesome to wear. It has far more support than you imagine it would, I think this is probably related to the overall quality of the fabric used, and it really helps to iron out my lumps and bumps and gives my body a beautiful silhouette. I did wonder if the detail on the top worked well with my body because of having next to no boobs left but you know what I love it, my body is what it is so I decided not to worry about it.
The straps are adjustable so you can make sure you get the right fit up top for your body. I have a shorter than normal proportions up there so this is a big bonus for me. I went for size 34b and while I could possibly have gone down a size I think this size is pretty good for my body! This was the most expensive swimsuit I think I've ever purchased at NZD $215 but when you find something that you love that is fantastic quality I think it is worth investing a bit more than you usually would.
If you want to check out Lonely Label swimwear here's a link to their online store. Have you enjoyed swimsuit shopping more after weight loss surgery? Let me know which Lonely Label swimsuit is your favourite by commenting below!