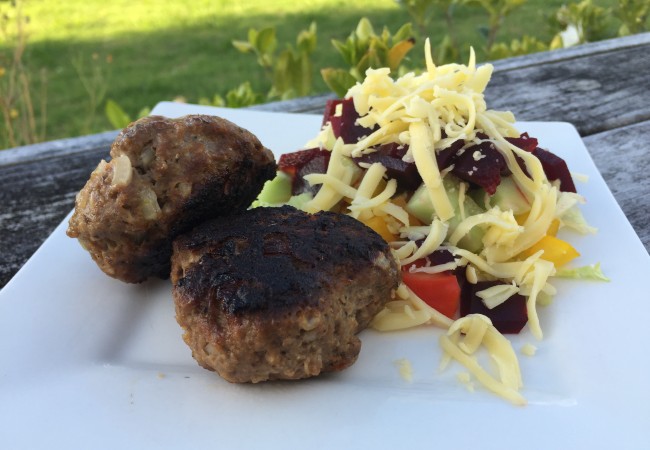 Bariatric approved rissole and burger patty recipe!
Rissoles are an old favourite of mine that have made a serious comeback since having my gastric bypass surgery. They are super easy to whip up and can be cooked quickly. They are perfect to take along to a BBQ and I always have some left over to use up over the following few days. The beauty of this rissole mix is that you can make the rissoles whatever size you like so if you want to make burgers for the rest of the family you can just make bigger patties and you can cater to everyone.
I usually serve these up with a side salad and you can pair them with any salad you fancy. You could use burrito tortillas to make tiny 'buns' and pretend you're having a burger. This recipe is my general base that I tend to use. You can change or sub out the ingredients to your tastes or to suit whatever theme of food you're having. I use basil and oregano as the herbs in this recipe but you could easily change them to get a different taste.
Ingredients:
500g Beef Mince (I prefer Green Meadows Beef which can be ordered online!)
½ an onion, diced finely
2 heaped teaspoons minced garlic
1 Oxo cube
1 heaped tsp dried basil
1 heaped tsp dried oregano
1 tbsp tomato ketchup
1 tbsp BBQ sauce
1 egg
1/3 – ½ cup wholemeal breadcrumbs
Four rissoles on a side plate to give you an idea of size!
Method:
Mix all of the ingredients together in a large bowl. Add the breadcrumbs in gradually depending on how 'wet' your mix is. I get my hands in there to make sure it's really well mixed. Once the mix looks like it's binding well, it will stick together nicely as one big ball in the bowl. Cut the ball into four pieces. Take a quarter of the mix, divide it evenly into three bits and shape nicely into a small ball. Squash the ball between your hands to flatten it out a bit. Do this with the remainder of the mix. Pre-heat your BBQ or frying pan, add some olive oil and place the rissoles on to cook. Note that if you make some bigger than others the bigger ones will take longer to cook so you may want to add them first before the smaller ones. Turn them over when they look cooked about halfway through. When they look cooked cut one in half to check and then serve them up!
The finished product!
This recipe is really easy and open to interpretation. Do what you like with it! I find these are an awesome hit of protein and I always get leftovers so make a few extra salads for the following days. I tend to eat two of the rissoles (if I can manage them) and some salad and am satisfied.
Does this look like something you'd like to make? Comment below and let me know!