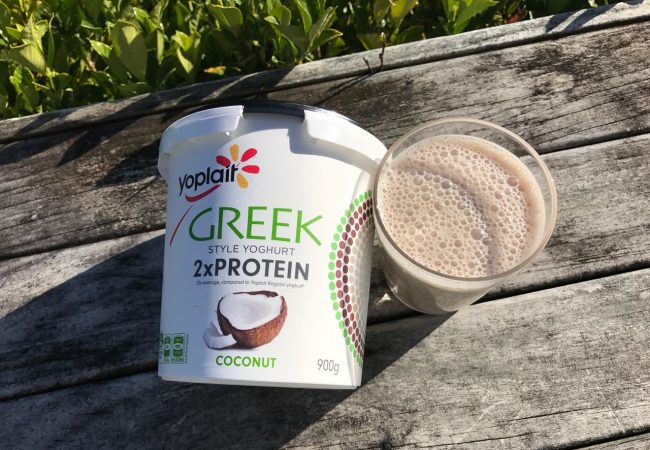 Yoplait Greek Yogurt Bounty Bar Protein Shake Recipe
I'm always on the lookout for new products that are high in protein. A few weeks ago I spotted the new Yoplait Greek Style Yogurt with 2x Protein at the supermarket. I got the natural flavour and wasn't a big fan, I've never liked plain Greek yogurt and this was no exception. Then I got an awesome PR package sent out with the Coconut flavour of the new Yoplait Greek yogurt and I have to say I'm really surprised by how much I like it!
With this yogurt I've managed to make a protein shake that has over 30 grams of protein. That's half my minimum daily protein intake in my daily breakfast protein shake! I played around for quite a few days putting differing amounts and different things in but I have come up with a winner and I think I'll be sticking with this recipe for a while.
Ingredients:
75 grams of Yoplait Greek Style Yogurt – Coconut flavour
100ml Calci-trim Milk
25 grams Nothing Naughty Egg White Protein Powder
½ teaspoon Organic Cacao
Method:
Put everything into a jug or similar container. Mix with a stick blender until blended. I add everything into the jug while it's sitting on top of a pair of kitchen scales so I can be exact with amounts. Tip into a glass and enjoy!
How it all adds up nutritionally:
Protein 32.6 grams
Fat 1.9 grams
Sugar 12.1 grams
Carbohydrates 13.75 grams
Kilojoules 858.25 or 205 Calories
This may be getting towards being a bit high in sugar but with dairy it's a sacrifice you have to make. It is still less than 5g of protein per 100ml which is within my acceptable limits. The protein level and low amount of fat still make this shake worth it for me. You could always sub half the milk for water to reduce the levels slightly but I prefer it made with milk. You can find the new Yoplait Greek Style Yogurt at supermarkets and for this shake I use Nothing Naughty's egg white protein and organic cacao which you can buy here.
Do you make your own protein shakes? Does this look like a recipe you would like to try?