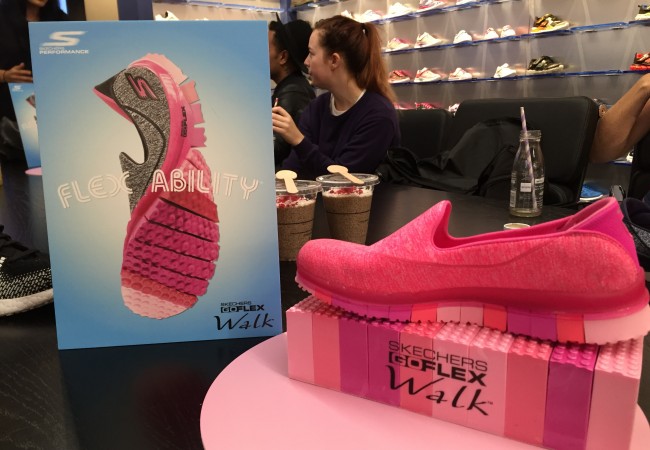 If you follow any of my social media accounts (the links are up in the right-hand corner of the page) you would have seen that on Thursday I was invited to a pretty cool launch event. Skechers have just released their new Go Flex range in New Zealand and I got to go along and see what they are all about.
First up we all met up at their showroom and got to pick out a pair and try them on. I picked the Go Flex Walk in pink and grey because of course I needed to coordinate then with my activewear that's mainly pink. My first thoughts about the shoes once I put them on were how soft and light they were on my feet.
Once we all had our new Go Flex on we were shown the rest of the range as new colours are yet to be released but will be hitting shelves in April. Then we got a preview of what's coming up for the rest of the year and Skechers have some really great new shoes in awesome colours coming throughout the year. I have my eye on a particular black and gold pair that I think will look amazing on my feet!
Then we headed up to Arcanation Aerial Fitness in Ponsonby to put the Skechers Go Flex through their paces. We had our instructors show us some amazing things on the hanging hoop and hanging silks and then it was our turn! I managed to get into the hoop much easier than I thought and with a bit of a hand from the instructor got myself into a few poses. The Skechers Go Flex were really comfortable and definitely moved with me as I contorted myself inside the hoop.
I think starting with the hoop may have given me a false sense of my ability and strength because when we got to the silks it all changed. I started with the looped silk and getting up into wasn't easy but wasn't terribly difficult. Turning myself upside down was hard and getting into the pose I needed as much flexibility as my body would allow.
Then I went to the silks that were just hanging from the ceiling and gosh it was difficult. With quite a bit of help I managed to get myself upside down and tried to get my legs where they needed to go but I lost all spatial perception of my body and after moving around trying to get in the right place I had to let myself down. The Skechers Go Flex didn't inhibit my movement at all and they are so comfy it was easy to forget I had shoes on. The aerial fitness was really fun and I might look into doing some classes.
I've already done one of my Daily Burn workouts in my Skechers Go Flex. I had been doing them in bare feet because my other shoes weren't really appropriate for the range of movement I have been doing in those workouts but they made it more comfy. The Skechers Go Flex have a Goga Mat lining in the sole of the shoe and its like walking around on fluffy pillows. The grooves in the sole on the bottom of the shoes moved with me and it pretty much felt like I was barefoot anyway.
I had a great time at the Skechers Go Flex launch event and would like to thank Skechers for inviting me! I am going to put these shoes through their paces over the next couple of weeks and will do a thorough review post on them soon. Have you got a favourite pair of Skechers, comment below and let me know!