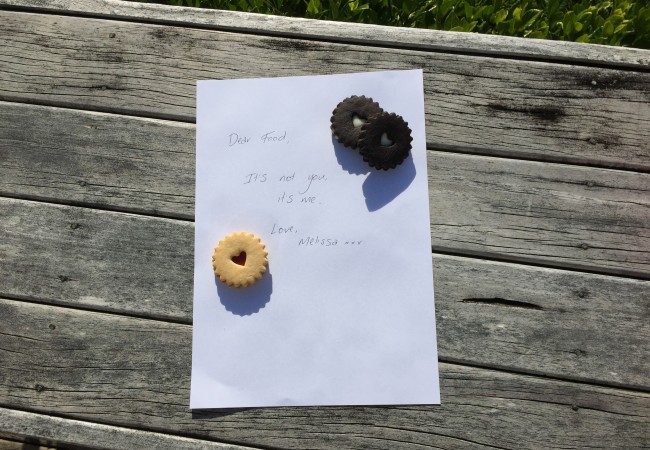 There is much, much more to bariatric surgery than just the physiological side of it and the effects that it has directly on your body. The mental side of preparation for surgery is huge and if you don't have enough time or you don't do enough work on the head stuff first, from when I've seen, it's harder to comply with the post surgery guidelines. This, ultimately, is going to make it harder to reach your goal weight and if you do reach it will be harder to maintain long-term.
One of the things I did, that was only possible because of the long lead up I had to surgery, was think lots about what I was letting go and giving up by choosing to have a gastric bypass. After any bariatric surgery there are things that even if you can tolerate you should stay away from.
Dumping syndrome is a very real concern for post-op gastric bypass patients and I knew there was a pretty good chance I would never be able to have things I quite enjoyed again. The 'dumping' is caused by the physical changes to your digestive tract and is unavoidable with your digestive tracts new route. It won't affect all post-op gastric bypassers but it will affect some.
When looking at the relationship I had with food prior to surgery it was not the most healthy relationship you could imagine. I think we all have a vice or something we have an emotional relationship that we use when we want something to make us feel better for a variety of reasons. For me that was very much food and now I realise the extent to which I relied on it to comfort me emotionally, to celebrate with when I was happy, to make me feel better if I was sad or tired and pretty much any other excuse that would create a good enough excuse to eat something yummy.
After thinking about this prior to surgery and having had part of this realisation I decided what I needed to do was to breakup with food. In many ways my relationship with food could be seen as a dysfunctional relationship so this analogy seemed appropriate. Starting to make that mental separation prior to surgery meant that post-op when I couldn't have something I would have previously loved or in celebration situations where I couldn't join in with everyone else I actually wasn't bothered by the fact I couldn't partake.
I created, in my head, a food bucket list before I started the liquid diet that I was required to do for two weeks prior to surgery and had things I knew I was never going to eat again. I knew at this point I had really made peace with my decision and was ready to take on this next challenge because, you know what, I actually didn't enjoy most of these things anywhere near as much as I thought I did.
Bariatric surgery whether gastric bypass or otherwise is not an easy road and is certainly not 'the easy way out'. You need to do as much mental preparation beforehand and making peace with what you are letting go is a huge part of that. Let me know if you relate to any of this and if you did anything similar in the lead up to your surgery. If you are thinking of having surgery does this sound like something you would do? Let me know below I'd love to know how you tackled the mental side of getting ready for surgery.