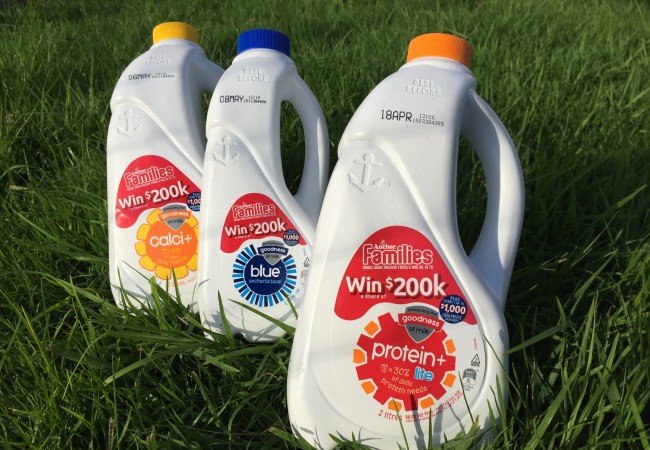 Since my protein intake has become the sole focus of my diet I am now instantly drawn to any product I see in the supermarket or anywhere else that promotes itself as a 'protein' or protein enriched product. I was excited to see Anchor and Meadow Fresh have protein boosted milks on the market.
My milk of choice is the calci-trim variety as it has considerably more protein than normal milk but also far less fat making it my first choice so I was interested to see how the nutritional information of these two milks would compare.
After picking a 'protein' product up off the shelf the first thing I do is dutifully read the food label. I now have a teeny tiny post-op gastric bypass tummy and I need to make sure what I'm putting in there isn't taking up valuable room stopping me getting enough protein in and I need to make sure it's even worth eating in terms what I need. Post gastric bypass surgery I was given a daily protein goal of 60-80 grams of protein a day and I need to meet it every single day.
Here are the nutritional information labels of a normal blue top milk, a protein enriched milk and a calci-trim milk. I have added in a blue top milk as a control and for some context.
All of these values I refer to will be the per 100ml values as I tend to use so little milk when I need it. The protein boost has the highest amount of protein with 6.0g, the calci-trim next with 5.8g and the blue top milk with 3.2g. The next thing I'm most interested in is the fat content. Protein boost has 1.5g, calci-trim has 0.2g and blue top has 3.3g. The sugar content in normal milk like this doesn't bother me because it's the natural sugars in the milk, nothing has been added but the three are relatively similar in sugar content. The last part I'm interested in is the overall calorie count for the product. The protein boost has 244kJ or 58 calories, calci-trim has 193kJ or 46 calories and the blue top 296kJ or 70 calories.
The protein levels in the protein boost and calci-trim milks are almost double compared to the blue top milk but comparing protein boost to calci-trim the difference is marginal. One big difference though is the fat level between the two of them. The protein boosted milk has quite a bit more fat in it than the calci-trim varieties. The fat level is still relatively low compared to blue top milk but what it does is push up the overall kJ count and make it worth a bit more in terms of overall energy intake.
I chose to have weight loss surgery to help me significantly increase my chances of being able to maintain my weight long-term. Since I use milk every day in my protein shake I will be sticking to calci trim as with the lower fat and calorie content it will make maintenance slightly easier. What I have learnt from this exercise is that reading food labels is vitally important for post-op bariatric patients to make sure we are staying on the right track.
I will be doing a post specifically on reading food labels soon as it's a topic I could talk about all day. Comment below and tell me if reading food labels has been or will become your priority in considering what you purchase in the future. Most of all I want to know I'm not alone in scrutinising labels in the supermarket!