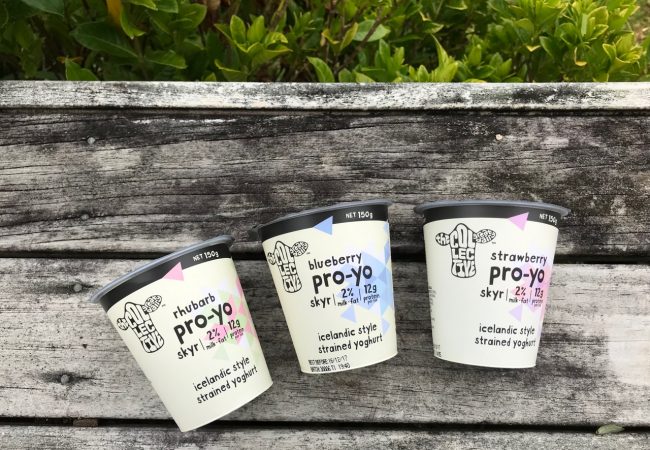 The Collective's new Pro-yo Skyr yogurt review!
I have always loved yogurt and I have always loved The Collective's ones especially. It's one food that I didn't have to give up or majorly restrict after my gastric bypass surgery and this new wave of higher protein yogurts that has been coming out has been exactly what I need. I especially love these ones from The Collective and I want to tell you why!
The Collective's yogurts have always been a favourite of mine. In their normal range they always have a special limited edition flavour and there are past flavours I still miss to this day. Since the nutritional profile of their normal yogurts isn't quite what I need from a yogurt now that I've had weight loss surgery, I haven't had their yogurts much since, apart from sometimes as a very occasional treat.
This new Pro-yo Skyr has changed that! These Icelandic style, super thick and high in protein yogurts are so good and being high in protein, are just what I need from a yogurt. I usually have one yogurt a day which I use as the base of my breakfast protein shake but I have been eating these as a snack. I wouldn't recommend you do necessarily (we don't need snacks throughout the day after WLS) but throughout my pregnancy I've had to add a couple of snacks in a day and I've been needing to focus on keeping my protein and calcium levels up so these have been perfect.
As with anything food related it's really important to read the food label to see what's going on there. In one serving there is approximately 12.4g of protein, 2.8g of fat, and 13.3g of sugar. The sugar content is a bit high for my liking, per 100g it's only 8.9g of sugar which is under my no more than 10g per 100g rule (for basically any food) that I live by, but I have found with all of the higher protein yogurts that the sugar content seems to be higher than other kinds of yogurt. Since I get the payoff of the high amount of protein it's a compromise I'm willing to make.
The nutrition label
The Collective's Pro-yo Skyr yogurts are available in five flavours. There's rhubarb, mango, blueberry, strawberry and blackberry and elderflower. My standout favourite is rhubarb! If I had to pick a top three I'd say rhubarb, mango and blueberry! The texture is really thick and being a layered yogurt all the good flavoured stuff is at the bottom so I always mix it thoroughly before I dig in. The RRP is $3.30 but I've seen them in a couple of different supermarkets for about $3 each.
Another cool thing about this product is the packaging. The Collective have managed to reduce the amount of plastic used for the yogurt by 60% and, of course, what they do use can be recycled. I am on a mission to reduce the amount of environmental impact our household has so this is a nice sweetener for me.
Have you noticed the amount of high in protein yogurts that have come out lately? Have you already tried the new Pro-yo Skyr by The Collective? What's your favourite flavour?
**Please Note: I received a delivery of these yogurts from The Collective when they launched as part of the PR efforts for the new product. I love them so much I have since purchased them and to be honest, if they hadn't of sent them to me, would have tried them anyway!