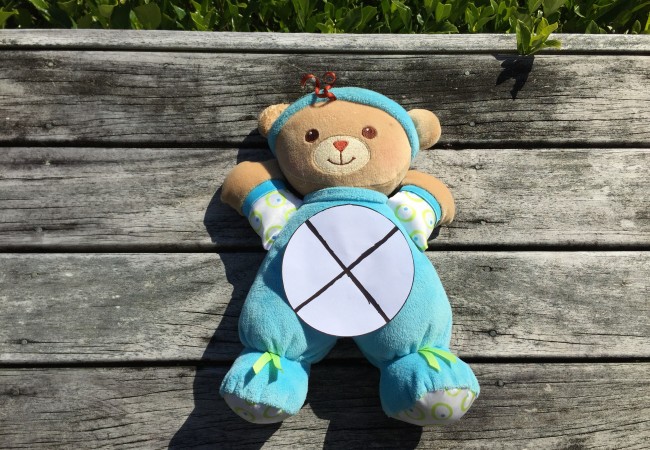 When your tiny tummy isn't happy
My tiny tummy is very temperamental at times. Often I go through patches when, for whatever reason, my stomach is just generally quite unhappy and it affects me in quite a few ways. I've had a rough couple of weeks lately and I don't know if I want to vent or just let you know you're not alone but I felt compelled to write about it.
My eating and tummy will have been okay for ages and then a meal won't go so well. I can't always pick what's set it off either. Did I eat too fast, was the texture not okay, did my stomach just plain reject it (oh hello spicy food) or have I introduced something new to my diet that's wreaking havoc on my tiny tummy?
If it's a case of eating too fast or the texture wasn't quite right, then generally it will be a one-off. I have to make sure things aren't too dry, dense or chewy and this can be hard when I'm eating out. Much as you can try to predict what something is going to be like there's so much variation in how things are made that it can be difficult. Eating out is also one of the prime times I will eat too fast. I can get caught up in everyone else demolishing their food and I forget to take breaks and let it go down. I have to consciously remind myself to eat slowly in social situations.
Sometimes though it can be a case of something new upsetting my tummy and in response it starts to reject things I should be eating. Things I have figured out the past few years that do this are antibiotics, probiotics, artificial sweeteners, natural sweeteners like stevia and consistent consumption (2-3 days in a row) of fruit juice (this applies to wine too). It's a process of elimination to figure these things out but since I don't add new things very often it's usually quite easy to put my finger on it.
I will start having trouble with food, and it's never things I shouldn't be eating, it's always things that I should be eating. I have more trouble with denser proteins in this situation usually. I will be eating something and I will figure out that it's not going well and I need to stop. It can vary but it will usually be a combination of some or all of these things. My tummy will feel uncomfortable, I will get chest pain, my nose runs and I have to blow it a lot (I think this is most related to eating too much) I can't continue to eat or drink anything, my mouth waters and sometimes I get thick saliva forming in my mouth and I feel generally uncomfortable and out of sorts.
Sometimes this can take a little while to pass and sometimes it can take hours. The most annoying/distressing thing when this happens is not being able to drink anything, not even water. In most cases it makes it even worse and increases the chest pain. I will wait to see if it's going to pass on its own. Sometimes, after a while I can feel it starting to calm down and about half an hour after that I'm okay. Sometimes it doesn't go away on its own and I need to do something about it. If I suddenly start getting more of these not so great things happening or they quickly get worse, then I need to deal with it. The only way I have figured out to so far is to make myself be sick.
The good old fingers down the throat works a treat, sometimes it takes a few goes but once it's got everything out I'll be okay fairly quickly. If I've had the foamies the first lot that comes up is just a big glob of foam. Then usually a big glob of thick saliva. Then if whatever is still sitting in my stomach causing problems then that comes next. It's not nice, it's not pretty and to be completely honest I wondered if I should even talk about it here on my blog at all. It's something I will only do in an absolute last resort and if I've managed to stop eating quick enough when I figure out it's not working then it won't come to this.
It only takes a couple of bad episodes in the space of a week or so to make me a bit nervous about eating. Not knowing how a meal is going to go, especially when I'm not at home, is daunting. I've never been randomly sick after eating and I have to prompt myself throwing up for me to throw up. While it feels like I need to vomit when I get really bad, I once waited for five hours a couple of times and nothing happened until I made it happen. You can imagine how distressing this was.
This doesn't happen often and there is usually a cause that I can figure out afterwards but it's a part of life for me now and it does happen occasionally. I think the siliastic ring around the tube at the top of my tummy is partly responsible for the trouble I have when I eat too fast. Stuff gets stuck above it and I have horrendous chest pain waiting for it to go through. Post weight loss surgery life is not always easy or fun but it is what it is. It certainly makes me more careful of what I'm eating and makes me examine if everything I have been eating has been okay or I should continue with.
Do you sometimes have trouble with food after weight loss surgery? Is it anything like I've described or is it totally different for you? Comment below and let me know, I'd love to hear from you.