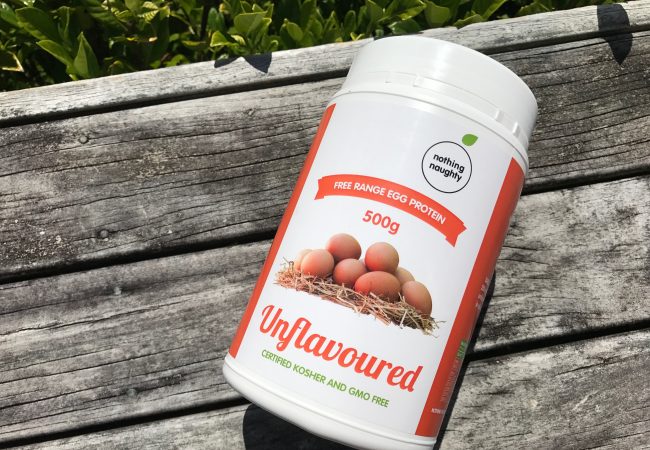 Nothing Naughty Free Range Egg Protein Review
Egg white protein is my most preferred type pf protein powder. I absolutely love Nothing Naughty's protein bars so I thought I would give their Free Range Egg White Protein a go. I have a protein shake for breakfast every morning and like to change it up every now and then to keep it interesting.
The first thing I noticed about Nothing Naughty Free Range Egg White Protein is how reasonably priced it is. For 1kg of this protein powder, including delivery, it is $49.95. That my friends, is the actual definition of a bargain. Nothing Naughty's protein bars are really well priced too so I'm not sure why I was expecting anything less. There are 40 servings (25 grams) per kilo so that works out to $1.24 a serve. On price alone this protein powder is already a winner.
Ingredients and nutrition panel
I find egg white protein to be the least offensive in terms of how weird some protein powders can taste. With egg white protein it really doesn't take much to mask the taste but even if you can taste it it's not a bad flavour. The unflavoured variety is great because you can mix it with pretty much anything and it's not noticeable. Be careful not to heat it though because being egg white it tends to 'cook' when it gets hot and the lumps aren't fantastic.
The unmixed ingredients!
The recipe I've been using to turn this protein powder into a shake is:
1x 25g serving of Nothing Naughty Free Range Egg White Protein
1x 150g Symbio Vanilla yogurt
½ teaspoon Cocoa (I am going to get some organic cacao to substitute this)
100 mls CalciTrim Milk
Method:
Put everything in a jug (or something similar) and mix it with a stick blender until it's mixed well.
The finished product!
From the protein powder you get 20.5g of protein per serving, the CalciTrim milk gets you 5.8g per 100ml and the Symbio yogurt gets you 6.2g of protein per tub. That adds up to a whopping 32.5 grams of protein per shake. My daily recommended protein intake from my dietician is 60-80 grams so this gets me halfway to my minimum just with breakfast.
The beauty of this recipe is you can add whatever you like to flavour it, sometimes I add a little bit of vanilla extract to have a change from chocolate flavour. I do recommend you mix it with a stick blender (or something similar) because just shaking it in a shaker leaves it lumpy and I'm not good with lumpy things that shouldn't be lumpy!
Nothing Naughty is located in Tauranga and all of their products are NZ made. I love supporting NZ businesses and it's so easy when they make such reasonable, awesome products. I'm going to give Nothing Naughty Free Range Egg Protein 5/5 stars! The price is fantastic, delivery was really fast with no shipping cost, it tastes great and is really versatile! If you've been thinking of trying an egg white protein then I suggest you try this one! You can purchase Nothing Naughty Free Range Egg White Protein here.
What's your favourite kind of protein powder? Have you already tried this one? Comment below and let me know!