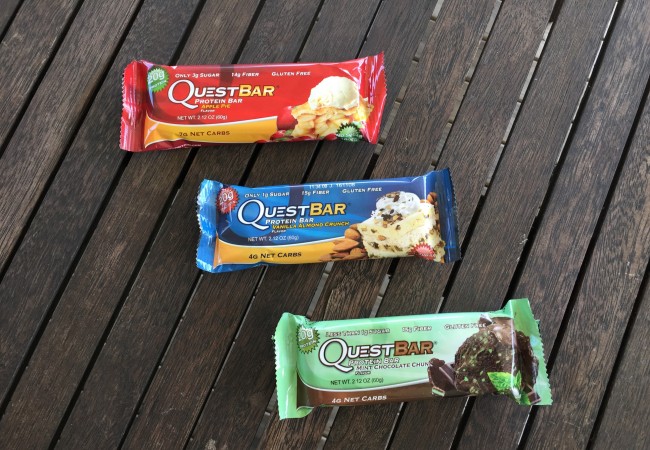 Quest Nutrition Protein Bars Review
I think I am going to crown myself a protein bar conniseur. I will try pretty much any protein bar I come across that fits my nutritional needs and I'm always on the lookout for a nice new flavour that I haven't had before. I went to NZ Muscle on Constellation Drive in Auckland (Here's a link to their website if you're not local or want to shop online) and they had a huge range of Quest protein bars that you could buy singles of and I picked up a few that I hadn't tried before. I thought I would give you guys a quick overview of what I thought of the flavours. Here's the post I've already done on other flavours.
Quest protein bars were one of the first protein bar brands I tried. They all have between 18 and 22 grams of protein in them usually and they aren't too high in fat, sugar or carbs for me. They do tend to be sweet and candy bar like but as a one off I don't mind them. I have a brain like a sieve and don't have the reciept on me but I think I paid about $4 each for these bars which is a decent price for them.
Here's the nutritional panels:
Vanilla Almond Crunch
This bar was very much vanilla flavoured and was super sweet. I don't know where the crunch comes from in the name because I didn't find the bar had a crunch to it at all. It was nice and I easily ate the bar but because it was so sweet I probably wouldn't get that flavour again.
Apple Pie
This bar had a nice apple flavour to it and it didn't taste like an aritifical flavour. It was sweet but not overly so and had nice litte bits of dried apple in it which were a bit chewy and added some interesting texture to the bar. This bar was really nice overall and I would get this flavour again.
Mint Chocolate Chunk
This flavour was my favourite out of the three I tried this time. I think I'm going to call it and say that this is my favourite Quest protein bar flavour yet. My previous fave was cookies and cream but I'd take this one any day over cookies and cream. The texture of the bar was nice it had crumbly bits throughout it which made it a bit more interesting and the flavour was really nice.
Out of the three new flavours I tried there's two that I would definitely have again. Have you tried Quest Nutrition protein bars before? If you have which is your favourite flavour? Comment below and let me know.