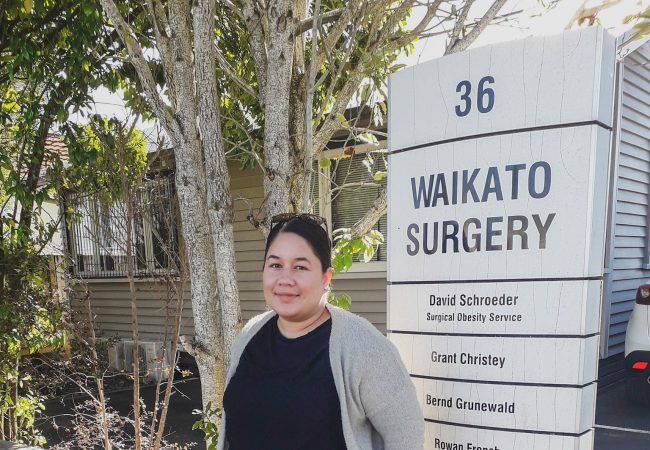 Interview with a bypasser – Si
I recently asked my followers on Facebook and Instagram to tell me what they wanted to see me write about. I had so many great suggestions that I'm mulling over and forming posts about and one suggestion was to interview others about their journeys. Immediately, Si came to mind. I've been following her on Instagram for a little while now and I'm loving the posts she has been sharing about her journey. Si is 30 years old, she lives in the Waikato of New Zealand and she travels to Auckland each day to work in the family business. Si had her gastric bypass surgery on the 16th of October 2018 with Dr David Schroeder through his private practice. As of this week, she's 5 weeks post-op and has lost 18.2kg already!
What's your story, how did you arrive at the decision to have weight loss surgery?
At the beginning of this journey I weighed in at 114 kg (251 lb) at a height of 165cm (5'4) and had a BMI of 41, which classified me as "Morbidly Obese".
I was a chubby kid, then had a slimmer period between the age of 16 and 20, and then in my twenties, I continued to get bigger and bigger.
At 30 years old, I was out of breath just towelling myself down after a shower and suffered with chronic back pain after a gym injury.
I knew that my weight was contributing to my poor health and affecting many areas of my life, like my reliance on pain killers for back pain, sleep apnoea, and a lack of energy, just to name a few.
It wasn't until after 5 years of trying to get pregnant, that we were told that, due to persistent unexplained infertility we would need the help of IVF to conceive. However, I would need to be in the healthy weight range for my height, which was between 54-67kg, meaning I had to lose at least 47kg to be eligible.
I had been successful many times before in losing weight, however it was maintaining the weight loss that I struggled with most, and 47kg seemed an overwhelming amount to lose.
So, I began researching Weight Loss Surgery and was amazed at not only the weight loss results, but also the positive life and overall health changes many had made.
I finally raised the idea with my husband and family. They were all against it! They thought it was an invasive, short-term solution, and wasn't worth the risk.
About a month later, my father arranged a meeting with a woman he knew in our community that had Gastric Bypass Surgery. She shared her story with us and explained her reasons for opting for surgery, who operated on her and what her life was like post op. We found out what she ate on a typical day, what her vitamin regime was, and if she had any regrets. The only regret she had, was not getting the surgery sooner.
Our chat was a wonderful opportunity that shifted my family's views and helped me to finalise my decision to proceed with the surgery.
What did you do to prepare yourself for surgery? Do you feel like your preparation paid off?
I prepared for surgery by researching absolutely everything I could find on bariatric surgery, and followed others weight loss surgery journeys, to give me insight into what life would be like post op, but nothing beats having a chat with someone who's already gone down that route.
I also meal prepped for the puree stage but found it was a waste of time, as I didn't eat any of it. After the op, I could only stomach bland food and ended up eating plain chicken for the most part.
Has there been anything you didn't know before surgery come up that you think others considering it should know?
I remember reading that many found the surgery to be quite painless, however I had the worst gas pain for nearly a week and was uncomfortable for quite some time.
I was also never a fussy eater before surgery, however my tastes and preferences have totally changed. Plain food tastes delicious and anything too flavoursome is overwhelming and sickening.
Lastly, I remember reading many times that surgery is only a tool, but wishful thinking had me hoping that miraculously my mind would be transformed as well. Unfortunately, fighting head hunger and breaking unhealthy habits is something I still struggle with daily.
What's the most surprising thing you've learnt about yourself through your journey?
I have always been a quiet and reserved person and disliked being centre of attention. So, for me to create an Instagram account documenting my experience with weight loss surgery publicly, is something I never dreamed I would have the confidence to do. There is an amazing and supportive community out there, and I'm grateful for the encouragement and having a place to document my journey. There is still so much stigma around bariatric surgery, and I'm proud of having the courage to put myself out there in the hopes that my story might help or inspire someone else considering the same path.
I really hope you enjoyed hearing from Si. We all have such different and interesting stories to tell. While we all walk this WLS path in solidarity no two journeys are ever the same. I look forward to seeing how Si changes and progresses on her journey, there are still so many great things to come! If you would like to follow her on Instagram you can find her at @mindbodybypass