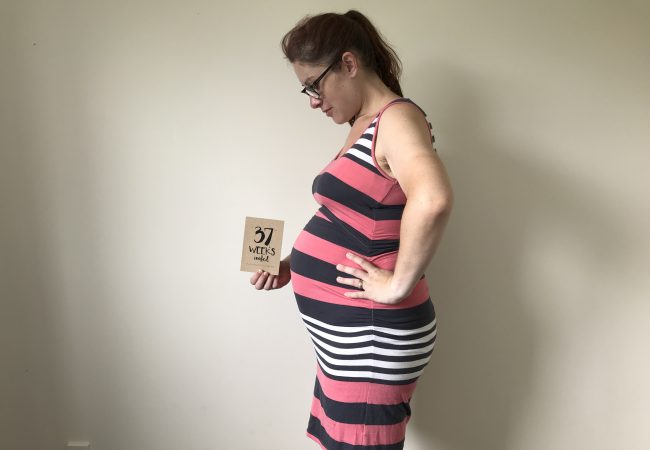 Pregnancy after bypass: Week 37 pregnancy diary
After a super busy week, especially with medical appointments, I was ready for a quieter week this week. I was also mindful that with this being the last week of school for my five-year old it was my last chance to relax! This week the baby is the size of a melon, a freaking melon. I look like I have a basketball shoved up my dress so I guess it kinda makes sense this week.
I started the week with a Sunday at home. I was struck by how little I had to do all day. I realised that being home meant I could keep up with lots of the small jobs around the house throughout the week and I didn't spend all of Sunday catching up and getting stuff done. I didn't even have to do a single load of washing which was really strange.
On Monday I had an appointment with the obstetrician at the hospital. This was the third different one I've seen and she was so lovely. She was really pleased that the baby was holding her growth steady on the 28th centile and was pleased to see I had a date for my c-section. She really took time to have a good chat and see if there was anything I wanted to talk about and it felt so nice to not be rushed through.
On Tuesday I didn't have to go anywhere all day so I took my little guy to school and then came home to some peace and quiet. I ended up making some Christmas mince pies and it took me a few hours. I did make over 50 of them, including making the pastry but gosh what a mission. I have given quite a few away as gifts and they have been very much appreciated so that's nice.
On Wednesday I went out for coffee with my grandmother, one final kid free catch-up with her for a while. We had a lovely morning and being able to talk without being interrupted by a kid all the time was good. I had a free day on Thursday so chilled out most of the day.
Friday morning was busy with a few errands to do and an appointment with the anaesthetist at the hospital in preparation for my c-section. I was able to talk about what I want and prefer which is important for something like anaesthetic. Last time I had an epidural I developed a patch where it wouldn't cover and even topping it up and making me move around didn't make a difference. I also want to avoid morphine this time around. I really didn't like the effect it had on me, making the room spin and eventually I saw sick, and there's a few other options of what I can have so that's good.
Since I had got heaps done on Friday morning I went out for a final coffee alone for who knows how long. It was nice to just sit and be for as long as I wanted and I'm going to miss being able to do things like that so easily. I've been trying to make the most of how easy life is at the moment because the first year or so of having a baby, especially if you breastfeed, can be really intense.
On Saturday I managed to not leave the house! I was a bit grumpy, I hadn't had a good sleep and I was quite sore when I got up in the morning. I pottered around and my husband took my little guy out for a while so I got a good chance to slow down and relax a bit. The pregnancy is really starting to take its toll on my body now. Things hurt, I'm uncomfortable and sleeping is getting more difficult because of being so big and uncomfortable and having to get up and pee a lot. The countdown is on, only a couple of weeks until my c-section and I can't wait to not be pregnant anymore at this point.
How far along? 37 weeks, this week the baby would be considered at term if she was born.
How big is the peanut? The size of a melon. Really not a fun size for a living thing inside you, I tell ya.
Total weight gain/loss? This week I went up a little bit. I forgot to write my weight down last week so I can't remember how much now.
Sleep? Has been getting difficult again. SO much tummy and I'm really missing being able to lie on my back.
Best moment this week? The peace and quiet I had that I'm going to miss.
Labor signs? I had a couple of evenings this week where my belly was quite uncomfortable and I was getting some tightening's but nothing that's made me question if I was going into labour.
Belly button in or out? When I sit down my belly button pokes out a bit.
What I miss? Real coffee, while I've got used to decaf I can't wait to have a proper full strength coffee again very soon.
What I'm looking forward to? Meeting our little girl in a couple of weeks.
Milestones? Getting to 37 weeks and being considered at term!
Bump? You can't miss it. I still accidentally hit stuff and walk into stuff with it all the time.