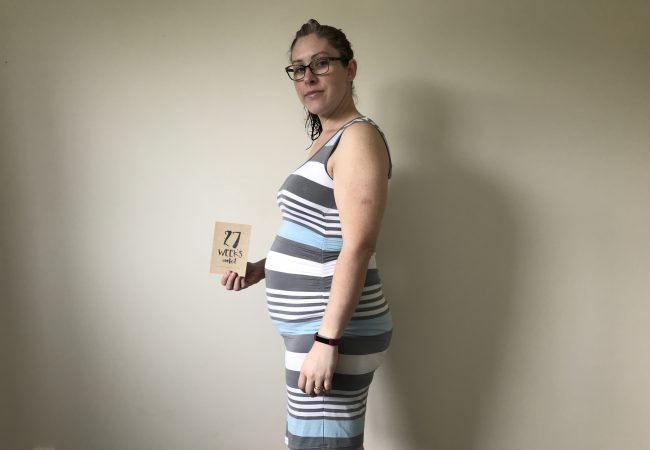 Pregnancy after bypass: Week 27 pregnancy diary
This has to have been one of the most stressful weeks of my pregnancy so far. We had such a big week on and even thinking about it was overwhelming. This week the baby is about the size of a cabbage, we are officially getting into the not cute kinds of vegetables for size comparison.
Our week started off at my in-laws for dinner. We had a really nice time with them and since we were there from early afternoon I got most of our lunches prepped in the morning. It was a nice relaxing day and I was off to a good start for the week. Monday was a busy day at work and I had lots to keep me busy.
It was the first week of the school holidays this week. My little guy was booked in two different holiday programmes (one Mon, Tues, Wed and the other Thurs, Fri). I was worried he was going to have a hard time since it's the first time he's had to go to one before, let alone going to two different ones in the same week. He didn't seem to mind them but I could tell he was out of his comfort zone.
My husband was having surgery on Wednesday and this was my main stressor for the week. We got a call the day before saying the person before him had cancelled and instead of arriving at the hospital at 10 am we had to be there at 8am. Cue panic. We couldn't drop our son off at the holiday programme until 7.45am and there was no way we could get across Auckland in 15 minutes. My sister in law came to our rescue and ended up having him the night before to stay the night and she dropped him off for us in the morning. Phew!
Then the big day was here. We got to the hospital in heaps of time and then my husband had to wait for ages to go up to surgery. I had a Fitbit launch for the new Fitbit Iconic to attend so I went to that while he was still waiting. It was nice to have a break in the day and have something to keep me occupied. I planned on posting to Instagram stories while I was there but understandably I was just a bit distracted and totally forgot. I am such a bad blogger at times. The new Fitbit Iconic is pretty awesome though, I will have a review post up very soon about it.
The surgery ended up taking longer than expected and because they started so much later it ended up being a long day for me. We didn't get home until about 7pm and since I'd left home at 6.30am and had been so on edge all day I was stuffed. I went back to work on Thursday and had quite a bit to catch up on. Friday was busy too since I'm having next week off on leave for the school holidays and I had to tie up loose ends and just get stuff done before I left for the day.
On Saturday we were all absolutely exhausted. I had managed to convince my little guy that it was a good idea to have a pj day and that it was his idea all along. That's exactly what we did. Pj's all day! We chilled out, watched a movie, I managed to read a whole book and I felt so much better for it. I've had a cold coming on and progressively getting worse all week and a day of rest did me some good there. What a week, stressful and busy but it was good to get my husband's surgery done and dusted.
How far along? 27 weeks, first week of the third trimester!
How big is the peanut? About the size of a cabbage. Not cute I have to say.
Total weight gain/loss? I stayed the same this week. Phew!
Maternity clothes? I am still waiting on my Boohoo order. It seems their shipping takes forever. (It ended up taking two weeks, which in this age of fast shipping seems a bit excessive.)
Sleep? Was not great this week. Too many late nights and stress keeping me from sleeping well.
Best moment this week? Hearing from the surgeon that my husband was all good after his surgery, such a relief.
Food cravings? I haven't had any cravings as such this week but my appetite has really died down from what it has been for the last couple of months. (Reading this back a couple of weeks later I think it was stress related, as usual.)
Belly button in or out? My bellybutton is still on but I've noticed two of my bypass scars are much higher on my tummy than they used to be. Goes to show how much my excess skin is being put to use with how much it's all changed.
What I'm looking forward to? Seeing our baby girl again next week for our first growth scan.
Milestones? Getting into the third trimester feels like a pretty good one. We're at the point now where if she was born she would need some support but would be very likely to get through.
Bump? It's getting almost impossible to hide now!