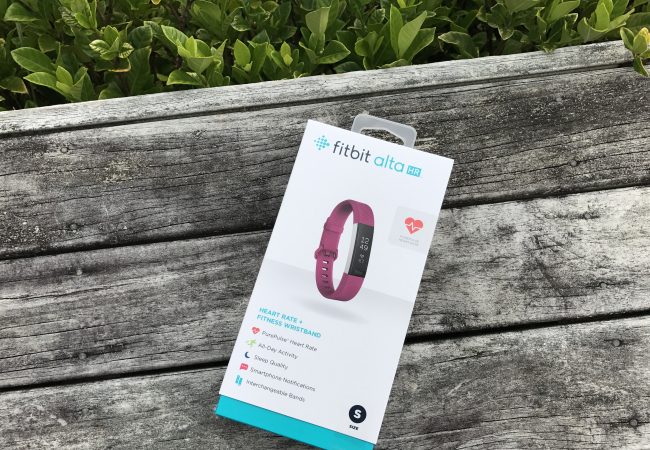 If you have followed my blog or social media accounts for a while you will know that I have an obsession. It's quite possibly bordering on an addiction at this point but let's not get pedantic with how we classify it, I am obsessed with Fitbits! I was sent the press release for the new Fitbit Alta HR and couldn't wait to get my hands on it. One great thing about this addiction is that Fitbit release a new device about every six months or so and being the lucky duck that I am, I get to review them when they hit the market!
Fitbit amaze me with the huge leaps they take in the devices and technology underpinning the devices every single time a new one comes out. Not only do the devices get sleeker and better looking every time but the metrics and quality of the data that is reported back to you consistently improves. Even if you don't get a newer device, providing it has the capability such as heart rate tracking, you can upgrade your smart phone app and get the benefits of the new software with older devices.
It's a great looking, slimline device!
There's two really exciting things about this new Fitbit Alta HR and the related software release. First, is that the Fitbit Alta HR is the smallest device on the market which has heart rate tracking capability. Secondly, is the new sleep insights, which if you already have an HR capable device, you will be able to see in your Fitbit app!
The Fitbit Alta HR as a device is really nice. It's small, lightweight and really sleek-looking. The standard band colours with this device are black, blue grey, fuchsia and coral. There are two special edition band and tracker colour combinations too! I really like that the clasp is the same colour as the bands so the colour around your wrist is consistent. This device doesn't have any buttons on it which is a first for me with a Fitbit. To activate the display, you can turn the watch face towards you or you can tap the screen and it will turn on. Then, to cycle through the stats it displays on the screen, you just keep tapping and you will work through them. The small band size is more than big enough for my little wrist.
The colour matched clasp!
I'll start with the main features of the Fitbit Alta HR itself.  The Alta HR boasts heart rate tracking, all-day activity monitoring and auto exercise recognition, sleep quality and insights data, smartphone notifications, interchangeable bands and a long battery life. I really, really like that the Fitbit Alta HR displays the battery level on the screen. I like being able to tell directly on the device how full my battery is. I think that's helping to break my charge every second day at any cost obsession!
The heart rate tracking seems no different to the previous Fitbit I was wearing daily, the Charge 2 which you can read it's review here, so that in and of itself shows that it's working well in this device. The heart rate tracking is an integral part of the new sleep insights. It uses your heart rate to figure out which phase of sleep you are in. In the older versions the sleep tracking used to tell you when you were asleep, restless and awake. There was no in-depth analysis of what was happening when you were asleep. This new release takes it so much further!
The new sleep insights and tracking shows you when you are awake and asleep but in the time you are asleep it figures out how much time you spend in each sleep stage REM, light and deep sleep. The graph looks pretty awesome as you can see below. You can also switch a toggle to see how well you do against benchmarked values which is made up of a group of people your age, you can see how much time you are spending in each sleep stage and how that compares.
I've been watching my sleep data, seeing how long I'm in each sleep stage and thinking about how I've felt each day in relation to that. I was surprised that the light sleep phase is where the biggest proportion of my sleep is spent, I guess I thought the more deep sleep the better. What I've noticed is the nights I've had a lot, or more than the benchmark of deep sleep, are the days I feel worse and more fatigued. On the nights I've had a good amount of light sleep and the appropriate proportion of deep sleep, is when I feel the most rested the next day. I've done a side by side comparison to show you just how variable my sleep can be.
A too short, not so great nights sleep vs a longer, better nights sleep!
I am perpetually busy. I work full-time, I'm studying a diploma, I have my family to look after and spend time with and I have my blog which takes a lot of time and creative energy. Sleep is the first thing I'm willing to compromise when I have too much on my plate but I know I need to prioritise it more. This enhanced sleep tracking is fantastic in helping me be more aware of where I'm at with my sleep and how the quality of my sleep is affected. When I get overtired I have more deep sleep and I wake up even more exhausted. It's important to figure out these things so I can work on improving them.
The all-day activity tracking and auto tracking of exercise are great features which have been carried over from the last Charge 2 release. I love that if I end up doing an unexpected walk that my Fitbit Alta HR recognises it and stores it as exercise for me. In terms of using it to track purposeful exercise I can't tell you what it's like for that because I haven't done any exercise lately. Yay for having a cold, an ear infection and shingles in the last three weeks eh! It tethers to your smart phone to track it so while you can't see all of your stats in real-time on the device it does give you the full summary after your workout in the smart phone app.
I love that it has the smart phone notification ability. I have got so used to my Fitbit letting me know when I receive a text message or phone call and I would have not been so keen on this device if it couldn't do it. It also gives me a notification if I haven't done my 250 steps each hour and encourages me to get up and do them. The interchangeable bands are another concept that's carried forward from the Charge 2. There is a silver or gold bangle band coming out and I can't freaking wait. It's the perfect way to be able to glam up the device on a night out! I need the gold-plated one, I wear a lot of gold jewellery, my Mac and iPhone are gold so really it would be a crime not to coordinate it really wouldn't it!
I'm also pleased that the charging cable is a grabby one! My Fitbit Surge is easily knocked off the charging cable but with the awesome grabby charger there's no risk of that happening. You can see below how snugly it fits in the charger. The battery life on this device is also amazing! Five days battery life is what Fitbit promise from the Fitbit Alta HR but I got seven days wear out of it after the first time I charged it completely.
A great, grabby charging cable!
I've got somewhat of a library of Fitbit's to choose from on a daily basis now. I have all three devices (Surge, Charge 2, Alta HR) connected to my Fitbit app on my iPhone and there's no issue with doing this. If all three are in range of my phone it can take a while to sync but that's the only thing I have noticed. My Fitbit Surge is my device of choice for running with as it shows me all of my stats on the screen in real-time, is accurate in distance and does a great job of tracking my exercise.
My Fitbit Charge 2 is a great everyday device and has slightly more functionality on the actual device compared to the Alta HR, like being able to see how many of the 250 steps you've done each hour if you're not there yet. The Fitbit Alta HR is a great entry-level device. If you're new to Fitbit or activity tracking it's a great place to start. I think each day is going to be a toss-up to whether I wear my Alta HR or Charge 2 but my Alta HR is definitely my preferred Fitbit to wear to bed at night-time.
The Fitbit Alta HR is a great little fitness and activity tracker. If it has the level of functionality that you think is enough for you I really recommend it. Fitbit is a great brand and I think you can't go wrong with them! I'd give this device 5/5 stars. I've really enjoyed wearing it and I love the Fuchsia colour of the band! The colour range of the Fitbit Alta HR is different to what we've seen before from Fitbit but it's fresh and new and I'm sure there will be a colour that you will love!
The easiest place to get the Fitbit Alta HR is their NZ website which you can find here. There are many retailers in NZ who stock them now though and Farmers is probably one of the most widespread where you can get them. The Fitbit Alta HR retails for $269.95 (Standard) – $319.95 (Special Editions) in NZ and the interchangeable bands retail from $55.95 to $219.95. Prices taken from Fitbit NZ's website in April 2017.
Are you a bit of an obsessive activity tracker like I am? Do you get a kick out of tracking things so you can see where you can improve? Tell me in the comments below what's your favourite feature of your Fitbit or what's the feature that you would buy this tracker for!